To help ensure that laboratories can effectively play a critical role in the prevention, detection, and control of diseases, current and emerging laboratory leaders worldwide need specialized training in leadership and management.
Leading organizations partnered to develop the Global Laboratory Leadership Programme (GLLP) targeting human and animal health laboratories, as well as laboratories with public health impact (environmental, agricultural, food, or chemical laboratories). The partners are:
The six partners enlisted the expertise of over 140 global experts in human and animal health and laboratory science for the development of the GLLP. The partners are committed to the programme's vision of laboratory leaders empowering national laboratory systems across the globe using a One Health approach to strengthen health security.
Laboratory Leadership Competency Framework
International experts agree that laboratory leaders need certain core competencies to meet national, regional, and global disease prevention and control objectives. The GLLP encapsulates the following nine core competencies outlined in the Laboratory Leadership Competency Framework :
Laboratory System
Disease Surveillance and Outbreak Investigation
Emergency Preparedness, Response, and Recovery
Biosafety and Biosecurity
Leadership
Management
Communication
Quality Management System
Research
The Framework is available in English, French, Russian, Spanish and Portuguese.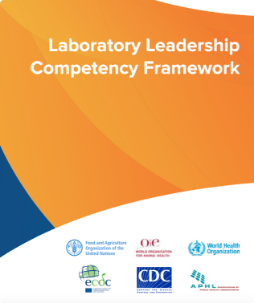 Available in different languages: