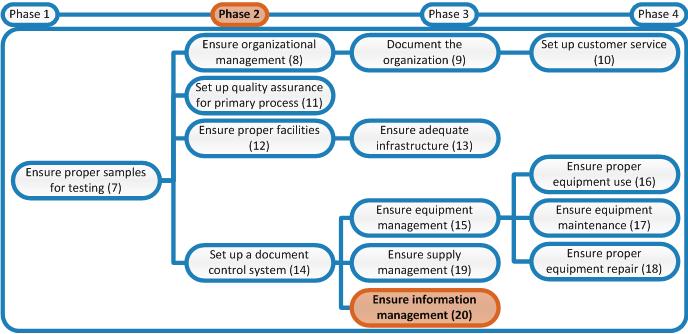 Title
Make a fixed format for the Result Reports
Why
The laboratory is responsible for ensuring that the requester receives all the results completely and that the results are clear and interpretable, supplied with biological reference intervals/decision values and all the details of the patient, the laboratory and the requester.
What
Make a fixed format for the Result Report. First decide on the medium for reporting of results: electronically or on paper. The format of the report needs to be developed in discussion with the clients of the laboratory, as they are the ones that need to retrieve all the information from the reports.
Reserve room for at least the following data in the report:
Name of the laboratory
Personal details of the patient, including clinical information as received by the laboratory from the requester
Details of the requester
List of examinations performed
Date of the primary sample collection
Primary sample type
Comments on the quality of the sample (either adequate for the examinations performed or inadequate, which could influence reliability of results)
Examination results
Biological reference intervals/decision values, including the "alert/critical" intervals for all examinations performed, with interpretive comments on results, if applicable
Interpretation of results if appropriate
A box that can be checked when immediate notification is required
Details of the laboratory staff member reviewing the results and authorizing the report for release
Date and time of release of the report
[TB] On the right you will find some guidelines and examples for TB reports (inculding DST) and request forms extracted from Definitions and Reporting Framework for Tuberculosis – 2013 revision.
How & who
Laboratory Manager:
Develop the first draft of the Result Report Template. Include the above listed elements and any other elements deemed necessary.
Discuss the template with several clients that regularly request various types of laboratory tests to see if any changes need to be made to make it more convenient for the clients to retrieve data from the report and interpret results.
Process these changes into a final template.
Present the template to the laboratory staff in a weekly staff meeting.
Provide the report to the Quality Officer for inclusion in the document control system.
Quality Officer:
Print multiple copies of the form and place them at a location you've indicated to the staff members.
Store the final template of the Result Report temporarily at a secure location. Later in phase 2 the SOP for Recording, Reporting and Archiving of Results will be developed. The new format of the Result Report will be put into use when the SOP is finalized.