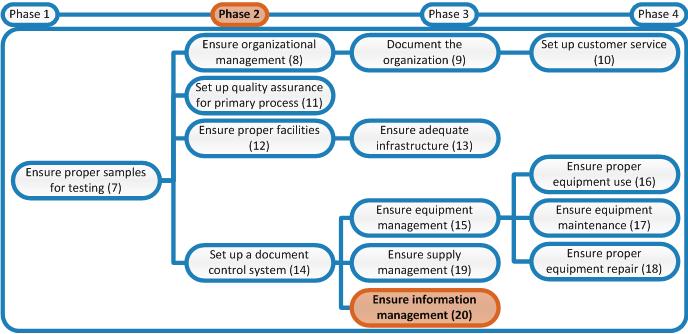 Title
Establish a system for immediate notification of the requester for samples marked as urgent and for results that fall within critical intervals
Why
Results that fall in critical intervals or of tests that were marked as "urgent" by the requester must immediately be notified to the requester so that he/she can handle directly to protect the patient's health and prevent further deterioration of the patient's well-being.
What
In phase 2 the biological reference interval are determined and documented for each examination performed by the laboratory. If applicable, alert/critical intervals are also established for certain examinations in consultation with clinicians. When the result of an examination falls within this interval the requester should immediately be notified before sending the final, official Result Report, as this has direct consequences for the way a patient must be treated.
This applies also to samples marked as urgent: the examination results of these samples must also be notified directly to the requester before sending the final official Result Report.
The laboratory has to implement a system that ensures that requesters are indeed immediately notified by an authorized staff member when examination results fall within critical intervals or are marked urgent. This system must also ensure that when the laboratory was not able to contact the requester with the first attempt, the laboratory keeps trying to contact the clinician until contact has been made (of course: this should not delay transmission of the official Result Report). It also needs to be verifiable that the results have indeed been transmitted to the requester.
Make an Immediate Notification Form. On this form the following details need to be filled-out:
Patient details
Requester details
Sample collection date
Examinations performed
Critical result to be reported
Signature for review and authorization of results
Dates and times of attempts to contact the requester without success (proves that you have tried to contact the requester)
Name of the laboratory staff member notifying the requester
Date and time of the notification
Signature of the staff member when the results have been notified to the requester
If no contact was made with the requester the last three points (name of laboratory staff member notifying the clinician, date and time of notification and signature of the staff member notifying the clinician) must not be filled-out. This way it is visible that the laboratory was not yet able to contact the requester and that it must continue with attempting to contact the requester.
The Immediate Notification Form will be an appendix of the SOP for Recording, Reporting and Archiving of Results that must be written later in phase 2.
How & who
Laboratory Manager:
Develop the form for Immediate Notification of the Requester.
Present the form to all the staff members in a weekly staff meeting and explain why it has been developed and how and when it has to be used. Explain where they can find the form.
Print multiple copies of the form and place them at the location you've indicated to the staff members.
Monitor if the form is used correctly and consistently.