Activity report 2019 – FNAFC / Rapport d'activité 2019 – RFVAA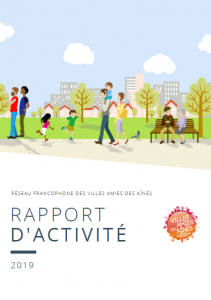 Each year, the Francophone Network of Age-friendly Cities (FNAFC) publishes its activity report in order to present the assocation's key moments. This document is both headed to representatives and professionals and, to a greater extend, headed to all people who wants to learn about our association.
You can read it in English here : FNAFC Activity report 2019
Happy reading !
Chaque année, le Réseau Francophone des Villes Amies des Aînés (RFVAA) publie son rapport d'activité afin de présenter les temps forts de l'association. Ce document est aussi bien à destination des élus que des professionnels et de tous ceux qui souhaitent découvrir le RFVAA.
Il est consultable ici : Rapport d'activité 2019 du RFVAA
Bonne lecture !