Young and Gold Intergenerational Urban Art Project
---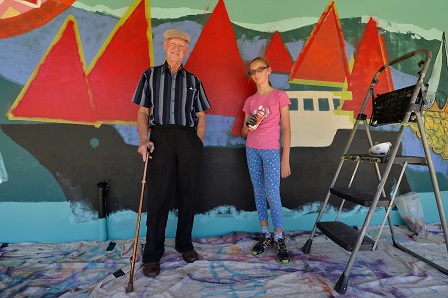 Status: Completed
Evaluated
Summary
Art has a unique way of connecting people across age groups. The Young and Gold Intergenerational Urban Art Project provided young people and seniors the opportunity to participate in an urban art community project at Golden Bay foreshore. The following objectives were achieved:
• The number of seniors who reported feeling comfortable communicating with young people increased
• The number of young people who reported feeling comfortable communicating with seniors increased
• A public art work that represented a sense of community in Golden Bay was created
• Exposure to alternative art classes amongst intergenerational participants in Golden Bay increased.
External partners included an aged care provider and a land developer. Internal partnerships included three Community Development teams (Seniors, Young People, and Arts and Culture) and Asset Services. The facilitating artist and participants were selected through an Expression of Interest process. Participants included six young people (the youngest was 12 years old) and seven seniors (the oldest was 92 years old). The project was conducted over seven working days. Participants learnt about urban art, explored different techniques, and brainstormed ideas for the final mural design. They then worked together to paint a formerly dreary ablution block wall using the techniques they learnt.
It was initially difficult to interest seniors from the immediate local community to participate in the project. However, through established relationships with an aged care provider, seniors who may otherwise not have had the opportunity were able to participate in the project through the involvement of their carers. This small, intimate group fostered deep conversations and connections, which broke down barriers between the generations. The resulting artwork is a bright mural which brightens up a formerly dreary wall.
Connections and rich conversations between the different generations were possible through the use of urban art as a unique tool to create, collaborate and participate.
Click here to view a video of the project
Website: http://rockingham.wa.gov.au/News/Young-and-Gold-Art-Project-2016
Key facts
Main target group: Both younger and older people (i.e. intergenerational)
Other target group(s): Intergenerational
Sector(s): Other
Desired outcome for older people:
Build and maintain relationships
Other issues the Age-friendly practice aims to address:
Ageism
Intergenerational activities
---
Age-friendly practice in detail (click to expand):