Sexual Health And Wellbeing In Later Life
---

Summary
A series of national research studies shows that people over 50 are often assumed to be non-sexual and invisible when it comes to their sex and intimacy needs. Not enough is being done to ensure older people can access good sexual health care and support, and rates of sexually transmitted infections (STIs) in people aged over 45 is on the increase. Evidence further shows that relationships can provide a range of important physical, mental and emotional benefits to people at any age.
Manchester's ageing strategy prioritises older people's sexual health and wellbeing. We want to:
Develop age-appropriate and age-aware sexual health and advice services
Take seriously older people's sexual and emotional needs
Tackle the ways older people's sexuality is often ignored or marginalised.
We set up a group of individuals from public health, primary care, NGOs, healthcare professionals, and academics to coordinate the work. The group identified two work streams:
The Big Conversation – campaigning to address negative stereotypes of sexuality in older people.
The Small Conversation – targeted work with healthcare professionals to normalise and improve attitudes and knowledge on the sexual health and wellbeing of older people.
To date, we have:
Held a Valentine's Day workshop bringing older people together to speak about their experiences of sexual health services,
Held a workshop in October with healthcare professionals to agree what would assist them to have better conversations with older people about their sex and intimacy needs,
Run 2 communications campaigns, addressing negative stereotypes, sharing positive images of older people in relationships, quotes from older people collected at the Valentine's workshop, and sexual health and relationships advice.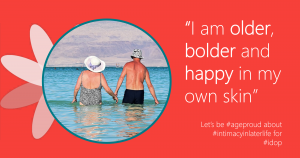 Website: https://twitter.com/MCC_AFMTeam
Key facts
Main target group: Older people in general
Other target group(s): Healthcare professionals and practitioners
Sector(s): Health, Information and communication
Desired outcome for older people:
Meet their basic needs
Other issues the Age-friendly practice aims to address:
Ageism
Accessibility
Healthy behaviours (e.g. physical activity)
Inequities
Inclusion
Participation
---
Age-friendly practice in detail (click to expand):