Lugaritz Homes: Connecting a Neighborhood
---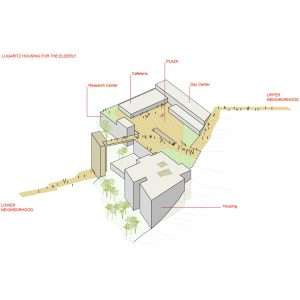 Summary
Lugaritz is a new housing complex located in a very strategic position in the City of San Sebastian. Lugartiz aims to improve neighbourhood connectivity as well as to create new methods of social cohesion for a more age-friendly experience.
The idea for Lugaritz comes from the need to provide new housing solutions for older people by exploring a collaboration between the Municipality and a non-profit organization: Matia Foundation, because the existing housing market does not offer appropriate solutions for the older people. Lugaritz is a pioneering initiative based on the development of a person-centered network with a strong longitudinal research approach. It is meant to be evaluated and tested for future collaborative implementations.
The Lugaritz housing complex provides a direct connection between the lower and upper part of the neighborhood. This vertical connection opens to a public Plaza in the upper level with great views to the city, south-east orientation and individual access to all the different programs located in the proposal: The Homes for the elderly, a Day-Center, a Cafeteria, a Nursery School and a Research Center. The new building and public space act as a meeting point for the neighborhood, an in-between space with an open character to be used by everyone.
This project aims to be central to the neighborhood; showing how housing for older people can be attractive and integrated, while also being integrated in the community by supporting ageing in place through the creation of a social network. This project is mainly focused on couples where one of the partners has some degree of dependency. The participation of Matia Foundation and the availability of their resources assures the provision of services according to individual needs: a person-centered approach supported by research and real experiences. These services involve various professionals: nurses, doctors, day-careers, but also family, friends and neighbors to ensure the person ages as healthily as possible.
This development is the first one if its kind in Spain. By merging architectural design with a person-centered environment, it aims to be a reference for similar initiatives.
Key facts
Main target group: Older people in general
Other target group(s): Couples where one of the partners has some degree of dependency/disability or vulnerability (dementia, ictus, Parkinson)
Sector(s): Health, Housing, Information and communication, Long-term care, Social protection, Urban development
Other sector(s): Longitudinal Research
Desired outcome for older people:
Learn, grow and make decisions
Other issues the Age-friendly practice aims to address:
Accessibility
Ageing in place
Dementia
Intergenerational activities
Inclusion
Participation
---
Age-friendly practice in detail (click to expand):