II – Municipal Conference of the Elderly of Jaguariúna
---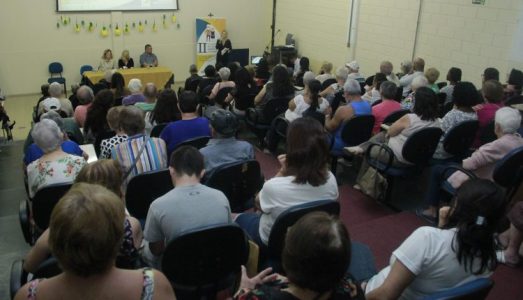 Status: Completed
Evaluated
Summary
On March(29), the Social Assistance Secretariat of the Municipality of Jaguariúna and the Municipal Council for the Elderly (WCC) promoted the second edition of the Jaguariúna Municipal Elderly Conference. The auditorium of the University Center of Jaguariúna (UNIFAJ) received, in addition to the elderly, representatives of the public power and welfare agencies.

During the conference, emotion and joy were not lacking. With the theme "The Challenges of Aging in the 21st Century and the Role of Public Policies", the event officially announced the inclusion of Jaguariúna in the Global Network of Cities and Communities that are Friendly to the Elderly.

According to the secretary of Social Assistance, Andréa Dias Lizun, this result was obtained thanks to a series of actions from all sectors of the City. "We did a previous survey and identified all the needs and needs of the elderly. Based on this, we set up a plan of action that had excellent results. But, we can not stop. We will continue working, "she said.

In addition, the ceremony featured a lecture by Prof. Dr. Elisandra Villela Gasparetto Sé and with the election of the delegates who will represent Jaguariúna at the State Conference.

The chosen ones of the Civil Society will be Marilene Ferrari L. Alves (holder) and Maura Claudino (alternate). Maria Aparecida dos Santos Miguel (head) and Maria Regina Arendt (alternate) were selected as representatives of the Public Power.
Key facts
Main target group: Both younger and older people (i.e. intergenerational)
Sector(s): Social protection
Desired outcome for older people:
Contribute
Other issues the Age-friendly practice aims to address:
Intergenerational activities
Inclusion
Participation
Technologies
---
Age-friendly practice in detail (click to expand):