Ennis Age Friendly Town
---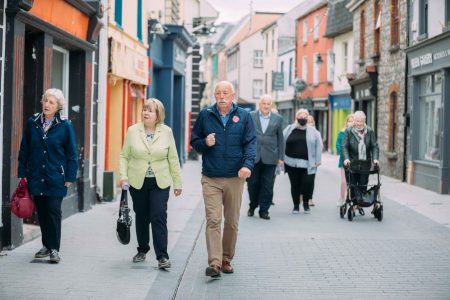 Status: Completed
Evaluated
Summary
The Ennis Age Friendly town strategy was developed in consultation with stakeholders both statutory and voluntary including the Older Persons Council, Clare County Council, An Garda Siochana and the HSE. A number of walkability audits were conducted with the Older Persons Council/Wheelchair users and persons with limited abilities to assess the existing streetscape and access to services from a safety and accessibility perspective. Arising from these audits a strategy was devised with objectives and the implementation plan included a series of actions, with a lead agency assigned. The objectives were:
1. Make Ennis a great place in which to grow old – measured by the outcomes in the 'Age Friendly Town' survey and measured through the implementation of the actions outlined in the Action Plan.
2. Improve overall accessibility of the town's public realm – measured by the outcomes in the 'Walkability Study' of Ennis and measured through the implementation of the recommendations in the 'Walkability Study' report.
3. Engage older adults in shaping and enhancing their communities for the benefit of everyone.
Measures introduced to date include enhanced shared surface public realm, drop kerbs, additional pedestrian crossings, age-friendly seating and parking, accessibility enhancements to recreational areas, age-friendly business accreditation and physical activity programmes for older persons.
Age-friendly partner agencies developed practical solutions, enabling everyone to experience a better quality of life. A safe, friendly town with good accessibility and facilities is a good place for persons of all ages.
All aims and objectives have been achieved, with further phased developments of the town planned. The Action Plan is a working document that will be reviewed.
Website: https://www.clarecoco.ie/services/community/age-friendly-programme/ennis-age-friendly-town.html
Key facts
Main target group: Older people in general
Sector(s): Education, Health, Information and communication, Transportation, Urban development
Other sector(s): Social participation
Desired outcome for older people:
Meet their basic needs
Other issues the Age-friendly practice aims to address:
Accessibility
Dementia
Healthy behaviours (e.g. physical activity)
Inclusion
Participation
Other
Other Issues: Safety, purple flag, garda presence, improved commercial service delivery to older people.
---
Age-friendly practice in detail (click to expand):