An Cluinín Retirement Village
---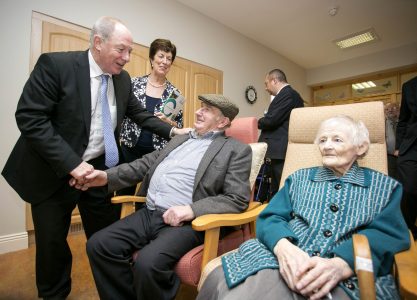 Status: Completed
Evaluated
Summary
An Cluinín retirement village was created by Kilmaley Voluntary Housing Association in response to an identified need within the rural area of Kilmaley, County Clare. The initial goal was to provide older people who were rurally isolated with the opportunity to grow old in a home environment with support and assistance when required, thereby preventing them from going into long-term care before their time.
A survey was carried out of all people living in the area to identify their future needs with regard to age profile, housing needs, healthcare needs, childcare and recreational requirements. One of the findings of the survey was that people were moving into long-term residential care way before their time (some people living in the locality were living in long-term residential care simply because they could not access the services they required. Once the first phase of 12 houses were opened, 4 people were taken out of long-term residential care into supported living in their own homes and community within the development).
The organisation created a development from a green field site which consists of 24 single independent living houses with help from an outreach service when required. An outreach service is provided to the houses during the Day Centre's off hours.  In addition, a Day Centre was built which caters to 110 older people in the immediate locality and a Health Centre which accommodates the local public health nurses and doctor service. A bus for the Day Centre, provided by fundraising, is used to include those living in outlying communities.
So far, this housing development has created a happy sustainable community for the older generation. It provides a quiet, secure and modern environment for older people in Kilmaley and the surrounding areas, who had become very isolated from basic community services.
Website: http://kilmaleymeitheal.ie/housing.html
Key facts
Main target group: Vulnerable older people (e.g. at risk or victims of abuse, living alone, poor etc.)
Other target group(s): Older People who can live independently but perhaps require care & assistance in their own homes
Sector(s): Health, Housing, Long-term care
Other sector(s): Targeting an ageing rural population
Desired outcome for older people:
Meet their basic needs
Other issues the Age-friendly practice aims to address:
Accessibility
Ageing in place
Elder abuse
Healthy behaviours (e.g. physical activity)
Intergenerational activities
Inclusion
Participation
Technologies
---
Age-friendly practice in detail (click to expand):