Sharjah Age Friendly City Awareness Program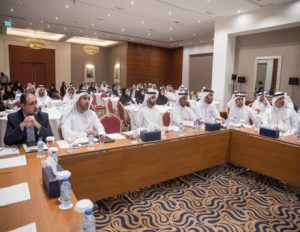 Sharjah in the United Arab Emirates held serial of seminars and meetings as part of its commitment to create the awareness and culture of an Age Friendly City among all relevant and concerned organizations in the city . almost covered 58 concerned organizations .
The awareness is part of Sharjah strategic plan to achieve the Global age-friendly cities criteria.
Sharjah became a member of the Global age-friendly cities on September 2016 as a result of the higher Authority support and commitment through taking the following steps:
-His Highness Sheikh Dr. Sultan bin Muhammad Al Qassimi ,member of the Supreme Council of the United Arab Emirates, the Ruler of Sharjah issued a decree No. ( 2 )2017 to prepare Sharjah to follow and meet Global age-friendly cities criteria
– The Executive Council of the Sharjah assigned a higher committee to supervise and support the implementations of the criteria through decree No.(7) 2017.
– The created strategic plan of Sharjah Age friendly program was approved by His Highness Sheikh Sultan bin Mohammed bin Sultan Al Qassimi, Crown Prince and Deputy Ruler of Sharjah and Chairman of the Sharjah Executive Council.