Madrid Age-Friendly City Action Plan 2017-2019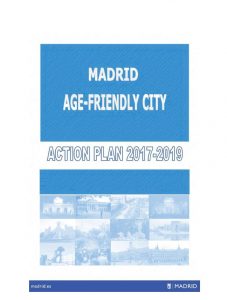 Madrid Age-Friendly City Action Plan 2017-2019
The challenge lies in achieving a healthy and safe environment, an accessible city, a good range of cultural offerings and quality social and health services that are suited to all the needs. All these factors are interrelated and have a positive bearing on maintaining the capacities.
Furthermore, a warm and easy city for older people is also a friendly city for all its inhabitants. Thus, the entire community benefits from the experience and skills of its oldest citizens if they are allowed to actively participate in the life of the city. 
In summary, the Madrid Age-Friendly City Action Plan 2017-2019 includes 3 lines, 8 areas, 73 actions, 149 actuations and 273 indicators.
MADRID AND THE GLOBAL NETWORK FOR AGE-FRIENDLY CITIES: CONCEPTUAL FRAMEWORK
MADRID, AGE-FRIENDLY CITY: BACKGROUND AND CURRENT CONTEXT
EVALUATION OF THE ACTION PLAN