Yate Ageing Better Festival 2022
---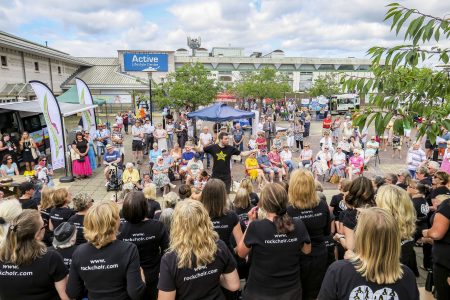 Status: Completed
Yate
United Kingdom
Summary
Yate Town Council hosted a community gathering at Yate Shopping Centre on Thursday 14th July at Yate Shopping Centre, to showcase and celebrate the number of ways residents can engage and age better in the town. The celebration showcased entertainment provided by local community Choirs, Tai Chi, Chair exercise and local bands – with plenty of participants taking the chance to sing along, dance and sign up for something new!
Information stalls offered key advice and guidance on issues such as mobility, sustainable travel, Dementia, fire safety and fall prevention.
The Chair of Yate Town Council, Councillor Cheryl Kirby opened the celebration which is in its second year, adding: "It is inspiring to see so many people of all walks of life, come together with Yate Town Council to celebrate the vast amount of activities, services and projects available to combat the threat of social isolation and poor wellbeing as we age. The Town Council is continuing to work to deliver its Yate Ageing Better initiatives, building on our achievements working with stakeholders in the Town over the past few years."
Promoting sustainability wherever possible, canvas 'goody bags' were distributed, and printed with the colourful logo to increase promotion of the project locally. Festival attendees also enjoyed afternoon teas and ploughman's lunches courtesy of the Over 50's Pop Inn Café and their volunteers, which is now open five days a week.
Website: https://yatetowncouncil.gov.uk/yate-ageing-better
Key facts
Main target group: Older people in general
Other target group(s): Those living in social isolation after the Pandemic
Sector(s): Education, Health, Housing, Labor, Transportation
Other sector(s): Public Services Volunteering
Desired outcome for older people:
Build and maintain relationships
Other issues the Age-friendly practice aims to address:
Accessibility
Dementia
Healthy behaviours (e.g. physical activity)
Inclusion
Participation
---
Age-friendly practice in detail (click to expand):