What difference did Age Friendly Darebin make for older people in the first year?
---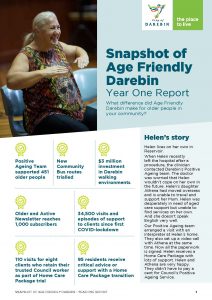 Summary
AgeFriendlyDarebinSnapshot_YEAR ONE
Darebin is progressing well toward becoming an Age Friendly City.
One year ago, an independent panel presented the Age Friendly Darebin Report to Council. It included 98 recommendation on how older residents can be better supported to live well in our community. The recommendations encouraged new initiatives and services. They also saw improved Aged Care Services, increased advocacy, and Age Friendly principles embedded in Council's plans and strategies.
In September 2020 Darebin's Aged and Disability Department presented the Age Friendly Darebin Year One report to Council. A 'Snapshot' of this progress report was designed in co-operation with a group of community members. It reflects some of the new programs and services, trials and initiatives that Council started to support older people over the past twelve months. It also describes the challenges that came along with the COVID-19 pandemic and Council's response to limit the impacts on our community.
The Snapshot is available in seven community languages.
Website: https://www.yoursaydarebin.com.au/growingolder
Key facts
Main target group: Older people in general
Other target group(s): Vulnerable older people
Sector(s): Health, Information and communication, Long-term care, Other, Social protection, Transportation
Other sector(s): Social inclusion, participation, bridging the digital divide
Desired outcome for older people:
Build and maintain relationships
Other issues the Age-friendly practice aims to address:
Ageism
Accessibility
Ageing in place
Healthy behaviours (e.g. physical activity)
Intergenerational activities
Inclusion
Participation
Technologies
---
Age-friendly practice in detail (click to expand):