Virtual Reality for Seniors Program
---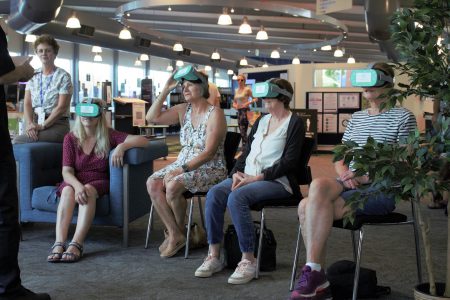 Status: Completed
Evaluated
Summary
A virtual reality (VR) experience provided older adults and people living with dementia & their carers an opportunity for social connection and learning. Funded by a WA Department of Communities Age-friendly Communities grant, this project aimed to provide seniors and people living with dementia access to positive experiences, social connection and engagement with this new technology.
Research and anecdotal evidence shows that VR can deliver a positive impact on mood, reduce levels of anxiety and depression, increase socialisation, and improve motor and cognitive skills as well as memory recollection. We partnered with local care agency Community Vision, who provided the VR equipment and session facilitator. Trained City volunteers and staff assisted with sessions and evaluated impact. The Clarkson Library provided a safe, comfortable and accessible venue.
84 participants took part across 21 sessions. Specific VR experiences could be requested and participants had a variety of VR experiences based on their preferred content, e.g. current/historical travel experiences (e.g. Japan, Victoria Falls, Ancient Rome), animal interactions (e.g. swimming with dolphins), activities like skydiving or hot air ballooning, games (e.g. bubble popping), and tours (e.g. cathedrals, galleries, the Guinness factory).
Morning tea followed each session, providing an opportunity for participants to connect socially. All participants reported a positive impact on mood and great delight with the experience. Lessons learned included the need to have a backup for participants who are uncomfortable with the headsets e.g. cast the VR to a television screen. Our evaluation found strong application, benefit and interest from older residents and the City is keen to find ways to continue this offering.
Key facts
Main target group: Older people in general
Other target group(s): People living with dementia and their carers
Sector(s): Health
Desired outcome for older people:
Build and maintain relationships
Other issues the Age-friendly practice aims to address:
Ageing in place
Dementia
Inclusion
Participation
Technologies
---
Age-friendly practice in detail (click to expand):