TKO Dementia Friendly Community Service Program : Dementia Friendly Community Symposium
---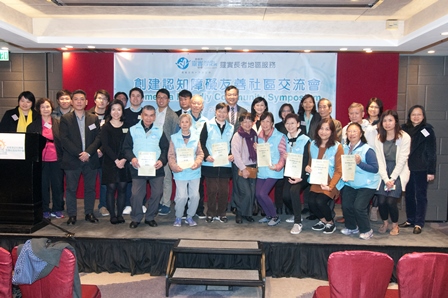 Summary
Addressing needs of older people with dementia and their families has always been one of the main focuses of the Age-Friendly Working Group in the Sai Kung District of Hong Kong SAR, China. The Group comprises government departments, elderly representatives and non-governmental organizations. The Working Group collaborates with Haven of Hope District Elderly Community Service, to promote the Dementia Friendly Community Service Program in Sai Kung District. The Service Program aims to: 1. Encourage local stakeholders, especially transportation companies, medical and health centers to be alert of the needs and symptoms of older people with dementia. 2. Raise awareness and understanding among the local stakeholders to the needs of older people with dementia as well as their families. 3. Facilitate the co-operation and discussion among different local stakeholders to develop a more dementia friendly environment as well as tailor-made services for older people with dementia. 4. Develop a supportive network among older people with dementia and their families. To start up the project, the "Dementia Friendly Community Symposium" was held on February 28, 2016. It was hoped that through the engagement with local stakeholders, leaders, representatives of NGOs, the Hong Kong Police Force and caregivers of older people with dementia, more understanding towards dementia and further cooperation to promote dementia friendly community would be developed. There were 146 participants attending the Symposium. Fruitful and valuable ideas were exchanged. We have received views and suggestions on how to promote a harmonious and friendly society for older people with dementia. In addition, caregivers have raised their concerns on how to enhance their participation and build a sense of belonging to the community.
Key facts
Main target group: Older people in general
Other target group(s): Family of the old people; Older persons with cognitive impairment and their caregivers.
Sector(s): Health
Desired outcome for older people:
Meet their basic needs
Other issues the Age-friendly practice aims to address:
Other Issues: Nil
---
Age-friendly practice in detail (click to expand):