Strength and Balance Exercise Classes for Older People
---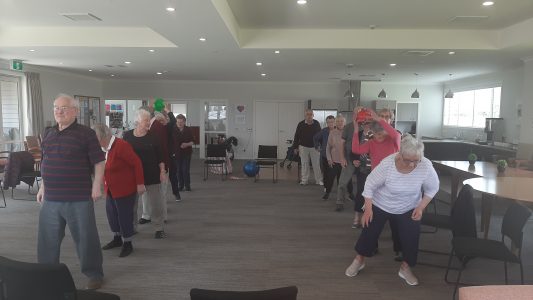 Status: Ongoing
Evaluated
Summary
Ready for Living (Local Government) developed the 'Ready for Strengthening' exercise class in response to the need for falls prevention classes in the district. In 2020 classes were developed to improve leg strength and balance. Classes were run in the main town of Gore as well as a smaller town, Mataura, in the district. The smaller towns classes were unsustainable due to low participant numbers. In the year and a half since class started over 50 strength and balance classes have been run, with over 65 different people attending.
The Ready for Strengthening class is recognised by the New Zealand strength and balance exercise accreditation 'Live Stronger for Longer' for exercise providers who meet nine clinical assessment criteria for community group programmes. Classes run weekly, with a low cost for participants, providing a fun, friendly and supportive environment. A wide range of abilities and ages participate, 50 years to 95 years old.
Exercise testing has shown positive results for participants increasing leg strength and balance. The social aspect of class is also important with chatter and laughter encouraged during class and the opportunity to socialise after the session. The older people enjoy the variety of exercises at the classes including relays, ball activities, poi, breathing exercises and thera bands which are modified for individual's needs. Exercises to challenge the brain are included, using both the left and right brain simultaneously for novel activities. Explanation of why activities are used and which muscle groups are being strengthening are acknowledged. The importance of mental, physical and social stimulation is stressed for cognitive health.
The plan is to have classes run indefinitely and expand to further classes as required.
Key facts
Main target group: Older people in general
Sector(s): Health
Desired outcome for older people:
Be mobile
Other issues the Age-friendly practice aims to address:
Healthy behaviours (e.g. physical activity)
---
Age-friendly practice in detail (click to expand):