Programa IRA – ERA Móvil
---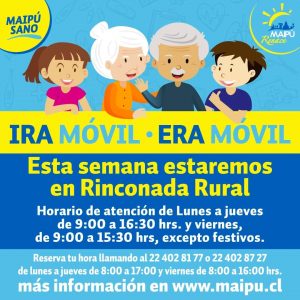 Summary
Programa enfocado en abordar infecciones respiratorias agudas (IRA) y enfermedades respiratorias agudas (ERA) en la población mayor. Cuenta con un staff de médicos y kinesiólogos, expertos en el área, que brindan la atención necesaria a la persona mayor, derivando en caso de ser urgente, al Hospital comunal y/o seguimientos con entros de Salud Familiar  (CESFAM) correspondiente.
Key facts
Main target group: Older people with chronic health conditions or disability
Other target group(s): Programa enfocado a toda la comunidad sin distinción.
Sector(s): Health
Desired outcome for older people:
Meet their basic needs
Other issues the Age-friendly practice aims to address:
Other Issues: IRA - ERA Móvil, sólo se encarga de facilitar la atención médica y kinesiólogica a personas mayores que presentan dificultades respiratorios.
---
Age-friendly practice in detail (click to expand):