PREFEITURE PROMOTES ENCOUNTER BETWEEN ELDERLY AND STUDENTS
---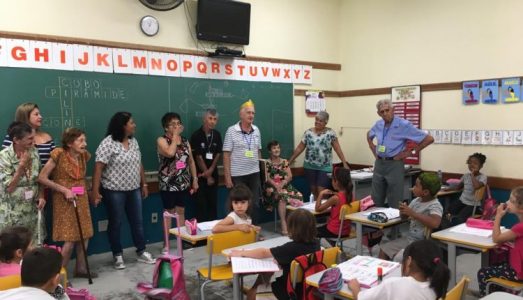 Status: Completed
Evaluated
Summary
The elderly of the Day Center "Osmar Carneiro" participated in a meeting of generations with the students of the municipal school "Professor Irineu Espedito Ferrari". The initiative of the Municipality of Jaguariúna, through the Department of Social Assistance in partnership with the Secretariat of Education, was full of lessons and interaction.
According to the Department of Social Assistance, the principle was initially to take the elderly just to get to know the "Literary Cart" that is in place. However, the experience has become even larger and more aggregating.
The elderly enjoyed the story "The Japanese Emperor" staged by Professor Alessandra and participated in a dynamics based on the theater. Then they went to the Library, where the professor of Biology and Environment made a point of showing the examples and other objects of study in space and its operation.
After enjoying a breakfast offered by the school, the elderly were presented the "Literary Cart". With a very didactic presentation about the operation of the project, they took advantage of some of the copies of the cart.
Finally, the children of Elementary School, said goodbye to visitors with a song. To surprise, the staff of Centro Dia entered the mood and as a form of thanks sang the song 'Happy Child'.
Key facts
Main target group: Both younger and older people (i.e. intergenerational)
Sector(s): Education
Desired outcome for older people:
Contribute
Other issues the Age-friendly practice aims to address:
Intergenerational activities
---
Age-friendly practice in detail (click to expand):