Porto Amigo program
---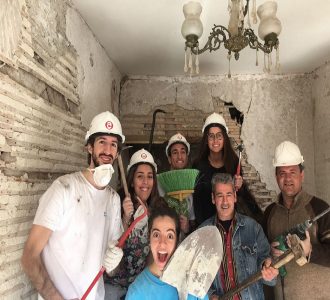 Status: Ongoing
Evaluated
Summary
Porto Amigo is a program that carries out reconstruction, repair, and improvements to the homes of people in a vulnerable economic situation to enhance mobility and health. These construction works are carried out by both national and international university students, that are volunteers in the Just a Change Association (partner of the project) and, if possible, with the involvement of the beneficiary.
The main objective of the Porto Amigo program is responding to the most urgent needs in housing, namely in the rehabilitation of degraded buildings belonging to low-income households, in order to optimize social intervention at the municipal level. The Porto City Hall developed the program Porto Amigo, with the main objective of promoting positive, active and healthy aging, as well as avoid and overcome the isolation and / or social marginalization of the senior population of the municipality.
This program targets people living in the municipality of Porto, in non-municipal housing, in a situation of proven economic shortage, who are over 60 years of age or who include in their household a family member with a disability equal to or greater than 60%, certified by health authorities.
In addition to improving the liveability of beneficiaries' homes, Porto Amigo also allows them to remain in their social environment, reinforcing their sense of belonging in the place where they live, fighting their feelings of isolation and loneliness, as along and after the physic intervention the volunteers keep the contact with the beneficiary and promote their inclusion in community activities.
The partners involved in Porto Amigo Program are: Porto City Hall; Manuel António da Mota Foundation; G.A.S. Porto — Social Action Group of Porto; Just a Change Association.
Website: https://www.porto.pt
Key facts
Main target group: Vulnerable older people (e.g. at risk or victims of abuse, living alone, poor etc.)
Other target group(s): Homeless; people with disabilities greater than 60%.
Sector(s): Housing, Social protection
Desired outcome for older people:
Build and maintain relationships
Other issues the Age-friendly practice aims to address:
Ageism
Accessibility
Ageing in place
Intergenerational activities
Inclusion
Participation
---
Age-friendly practice in detail (click to expand):