Nursing Care Service at Public Bath
---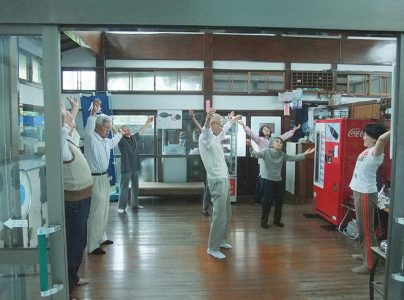 Summary
There are five pubic baths (called 'sento' in Japanese) in Kamakura City. The City uses the baths to provide seniors' day-care services called "Day Sento" twice a month during weekday mornings. Older adults of 65 and over can use this service for 300 yen each time, which includes the fee for the bath.
Each user receives a simple health check-up including blood pressure monitoring, and guidance on safe and effective bathing. They can also join an easy exercise programme led by a gymnastics instructor at the public bath, and even get a massage by a qualified on-site professional. This program is very popular among older people, as they can take a refreshing bath after working out.
Participating in the "Day Sento" programme helps relax people's mind and body, which helps them regain their well-being, and helps prevent disease and dependence on nursing care. This service also gives older people an opportunity to go out and socialize in their community.
Key facts
Main target group: Older people in general
Sector(s): Health, Housing, Information and communication
Desired outcome for older people:
Meet their basic needs
---
Age-friendly practice in detail (click to expand):