New service: Better sleep with digital home care
For senior citizens with home care services who sleeps restlessly, are easily awakened or don't wish to have personal visits, supervision through a webcam may be an alternative. It can also be a complement to traditional supervision (personal visit). The new service, which is performed by one of the City of Gothenburg's own home care services providers, Trygghetsjouren, is entirely optional for the care taker. The supervision is done in real time at specific times which the care taker himself/herself chooses. Any other time the webcam is securely locked and turned off.
Many benefits with digital home care
Digital home care gives the care taker the freedom to choose which kind of supervision suits himself/herself the best – a webcam or a personal visit. This strengthens the individual's empowerment, independence and well-being.
At the same time resources can be saved and reinvested to improve the home care services. Digital home care also improves the working conditions for employees in the home care sector – by reducing the stress. For the society as a whole, digital home care reduces traffic and environmental impact.
"I feel safer now. There is someone looking at me and if anything happens, they can quickly send someone to help me," says Hossein Sadri, 83 years old.
Someone looking through the webcam during the night does not disturb Sune Lindskog, 83 years old.
"I prefer this compared to if someone would open my door to check on me at night," he says.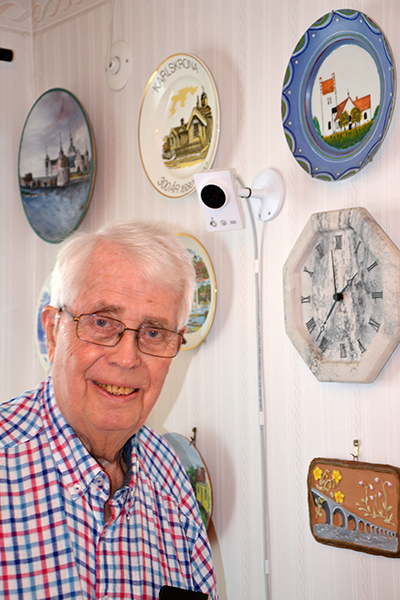 Film (in Swedish)
Do you want to know more, please contact:
Jörgen Forshäger, Technician
City of Gothenburg
Phone: +46 31- 365 85 85
E-mail: jorgen.forshager@majornalinne.goteborg.se