Municipal housing policy for seniors in Ostrów Wielkopolski
---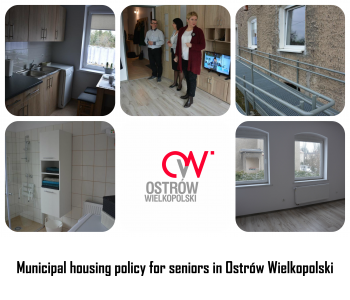 Summary
This program was created in response to the needs of a growing number of seniors and the lack of flats currently dedicated to people 60 +  in Ostrów Wielkopolski. Common problems faced by seniors include stairs, no elevator, and a lack of help. This project aims to solve these issues.
It is divided into 2 tasks:
Sheltered housing
Municipal housing
Ostrów decided to implement the 1st sheltered flat in order to offer support to seniors who require assistance in everyday functioning, but don't have support from their family, and doesn't need service 24/7. The first sheltered flat was created in 2017. The town acquired external funds for it. The town covers the cost of maintaining tenants for 2 years. It is inhabited by 4 seniors, chosen by a social worker. As part of the project, they can benefit from the support of environmental guardian, rehabilitator, psychologist. At the same time, they are prepared for independent functioning in local environment. The apartment is an alternative to the Social Welfare Home. In a sheltered apartment, the older person retains independence, yet can count on the help of specialists.
Municipal housing adapted to the needs of seniors and people with disabilities is carried out in 2018. Co-financing from Bank Gospodarstwa Krajowego was acquired for the implementation of the task. Apartments are built in 2 buildings and are adapted to the needs of seniors (lift, wide corridors). They are in the town centre, close to church, bus stop. There will be 14 flats.
To find out seniors' needs, they are involved in a needs assessments. In Ostrów Wielkopolski there is a City Senior Council. It is an advisory body of the authorities of the town which consists of 8 members (seniors) elected by  non-governmental organizations. The Council formulates their opinions on strategic and current plans of the town, and proposes its own ideas; the Senior Council is  involved in the creation of the senior policy in Ostrów Wielkopolski. The needs of seniors are consulted during  meetings of this council.
The aim of the project is to support the autonomy of seniors, as well as to provide them with housing that they might otherwise be missing.
Website: https://umostrow.pl/galeria-aktualnosci/mieszkania-chronione-czekaja-na-lokatorow.html
Key facts
Main target group: Older people in general
Other target group(s): Both - older people in general and older people with chronic health conditions or disability
Sector(s): Housing
Desired outcome for older people:
Meet their basic needs
Other issues the Age-friendly practice aims to address:
Accessibility
Ageing in place
Inequities
Inclusion
Participation
---
Age-friendly practice in detail (click to expand):