Move It – Back in the Game
---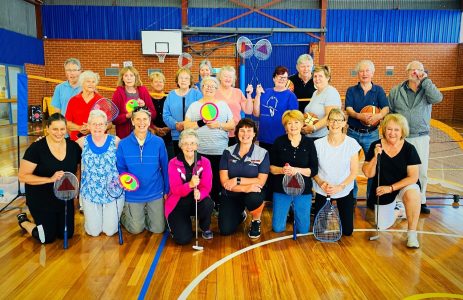 Status: Ongoing
Evaluated
Summary
Back in the Game was delivered by Macedon Ranges Shire Council as part of the Australian Government-funded Loddon Mallee Region "Move It" project, which aimed to increase participation in physical activity by older people who were previously inactive.
The Council chose to offer "Back in the Game", a modified indoor sports program designed by Council on the Ageing Victoria (COTA), for local residents 65 years and over who were physically inactive. The aim was to improve the physical wellbeing and quality of life of older people and provide opportunities to connect socially in a fun and friendly environment. No prior sporting experience was necessary – and activities could be adapted to suit the fitness and skill level of participants.
The Council offered a series of free sessions for older people in the townships of Romsey and Woodend. Activities offered included:
Walking soccer
Walking netball
Balloon volleyball
Table tennis
Transport to and from the sessions and a healthy morning tea were provided free of charge as part of the program.
Key facts
Main target group: Older people in general
Sector(s): Health
Desired outcome for older people:
Be mobile
Other issues the Age-friendly practice aims to address:
Ageing in place
Healthy behaviours (e.g. physical activity)
Inclusion
Participation
---
Age-friendly practice in detail (click to expand):