Life-Long Homes Coalition
---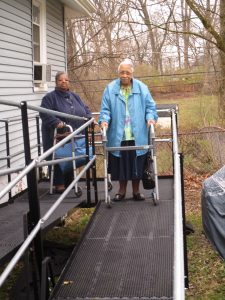 Status: Ongoing
Evaluated
Summary
Most people hope to age in the same homes and communities where they have lived the rest of their lives. However, suburban communities of single family homes often leave residents living isolated lives in environments hazardous to their changing bodies. In Montgomery County, Maryland, a County employee developed an innovative collaboration, the Life-Long Homes Collaboration, with other organizations to increase both the safety of low income older residents and their connection to the community.
Through an organic process that included both local organizations (aging-in-place "villages" and a community college), and national organizations with a local presence (Habitat for Humanity, Rebuilding Together, Seventh Day Adventist Church), the County's village coordinator facilitated repairs, weatherization and modifications to thirty homes between 2016 and 2018 and ongoing social support to their owners.
The benefit of the Life-Long Homes coalition (LLHC) went beyond the aging residents it served. As a result of this collaboration, participating organizations learned how to break down silos, communicate and coordinate effectively, streamline work processes, and engage community residents, aging, disabled, students, volunteers and professional staff. Montgomery College and Seventh Day Adventist contributed to the intergenerational nature of this practice, connecting young adults to lower-income older adults through learning and service.
Key facts
Main target group: Older people in general
Other target group(s): We were also able to serve younger people with disabilities
Sector(s): Health, Housing, Information and communication, Other, Social protection
Other sector(s): LLHC is addressing the need for breaking down silos among the different sectors and providers as well as the need for civic engagement and volunteerism
Desired outcome for older people:
Meet their basic needs
Other issues the Age-friendly practice aims to address:
Accessibility
Ageing in place
Intergenerational activities
Inequities
Inclusion
Participation
---
Age-friendly practice in detail (click to expand):