Intergenerational Musical Memories
---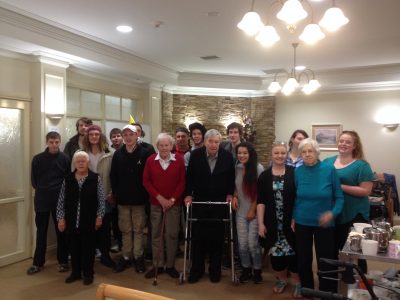 Status: Ongoing
Evaluated
Summary
The Intergenerational Musical Memories Pilot Project was developed and trialled in the first year of the Maroondah City Council's age-friendly journey to address the domain of Respect and Social Inclusion.
The project used music to bring together one older person within a care facility that was experiencing some memory loss, and another younger person that felt disenfranchised from mainstream society. Through music, both generations were able to connect, grow and learn that age is no barrier to building relationships.
The Active & Healthy Ageing Initiative partnered with Swinburne University's VCAL (Victorian Certificate of Applied Learning) program and Homestyle Aged Care Ferndale Gardens to trial this program under the age-friendly domain of Respect & Social Inclusion.
The trial phase of the project has now been completed and below is a video that showcases the program and the great outcomes it achieved.
http://www.maroondah.vic.gov.au/Community-support-services/Seniors-and-older-people/Active-Healthy-Ageing-Initiative/Intergenerational-Musical-Memories-Pilot-Project
Website: http://www.maroondah.vic.gov.au/Community-support-services/Seniors-and-older-people/Active-Healthy-Ageing-Initiative/Intergenerational-Musical-Memories-Pilot-Project
Key facts
Main target group: Both younger and older people (i.e. intergenerational)
Other target group(s): Older people in aged care facilities and disenfranchised youth
Sector(s): Health, Information and communication, Social protection
Desired outcome for older people:
Build and maintain relationships
Other issues the Age-friendly practice aims to address:
Ageism
Dementia
Elder abuse
Intergenerational activities
Inclusion
Technologies
---
Age-friendly practice in detail (click to expand):