Inclusive Guided Walks
---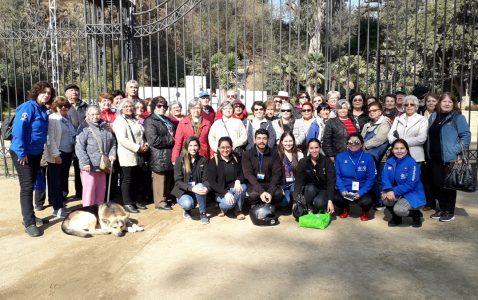 Summary
The purpose is to offer the opportunity to older people to get to know sectors of patrimonial, tourist and cultural interest in Viña del Mar. With this we contribute to people's sense of belonging to their city. They are Guided Walks through two representative sectors of the city: Quinta Vergara Park and Coastal Border. They are free activities and access to them by registration. Coordinating the activity are qualified personnel of the municipality's Department of Tourism with training in the treatment of people with disabilities . At the end of the program, participants are recognized as "Hosts of the City".
Key facts
Main target group: Both younger and older people (i.e. intergenerational)
Other target group(s): The activity is fundamentally aimed at people with some degree of disability, of any age.
Sector(s): Education, Information and communication
Other sector(s): Tourism and Heritage
Desired outcome for older people:
Learn, grow and make decisions
Other issues the Age-friendly practice aims to address:
Accessibility
Healthy behaviours (e.g. physical activity)
Intergenerational activities
Inclusion
Participation
---
Age-friendly practice in detail (click to expand):