Handyman for Older Citizens
---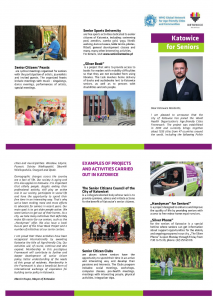 Status: Ongoing
Evaluated
Summary
The goal of the project is to increase and improve the quality of life of older people by offering them free minor home repairs. The services are available to residents of Katowice who are over 65 years, and/or living alone, in a household of two people, cannot handle household repairs or rely on their relatives.
The repairs offered include:
replacement/repair of taps in the kitchens and bathrooms,
unblocking drains,
repair of leaking pipes,
repair of cisterns,
installation/replacement of toilet seats,
connecting washing machines/dishwashers,
replacement of light bulbs,
repair/replacement of electric sockets,
adjustment/sealing of doors and windows,
repairing doors and window handles/locks
repairing skirting boards,
other minor repair and installation work accepted by the organisation in charge.
An older person may ask for a service once a month (12 times a year) and in exceptional situations, it is possible to ask for an extra service once the City Hall analyses the case.
Requests for services are accepted via the Silver Phone program and in person. In 2021, 306 Katowice seniors were provided with 656 repairs.
Website: https://www.katowice.eu/dla-mieszka%C5%84ca/dla-senior%C3%B3w
Key facts
Main target group: Older people in general
Other target group(s): The poor
Sector(s): Social protection
Desired outcome for older people:
Meet their basic needs
Other issues the Age-friendly practice aims to address:
Ageing in place
Inclusion
Participation
Contact details
Name: Małgorzata Moryń - Trzęsimiech
Email address: ps@katowice.eu
---
Age-friendly practice in detail (click to expand):