Chatty Benches for Spontaneous Conversations
---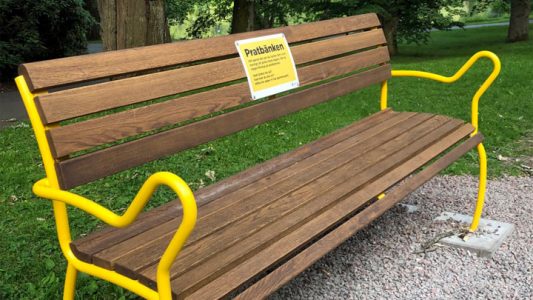 Summary
About twenty chatty benches have been placed in Gothenburg, Sweden. The idea is that the benches, which can serve as a place for conversation, will contribute to more spontaneous meetings between people, counteract social isolation and alleviate loneliness.
The chatty benches are part of the City of Gothenburg's action plan for an Age-Friendly Gothenburg, a broad collaboration between administrations, companies and older people. The chatty benches are made of dark oak, and have a yellow frame with armrests for additional support. The Park and Nature Administration, together with other administrations and companies, has placed the chatty benches all over Gothenburg in places identified by older people in the community.
"By exhibiting chatty benches, we want to create meeting places and contribute to increased accessibility and security in our urban environment," says Gunilla Åkerström, Unit Manager City Life, Park and Nature Administration.
Do you want to know more? Please contact
Sofia Tillman, Project Manager, City of Gothenburg
Website: https://stadsutveckling.goteborg.se/aldersvanliga-goteborg/
Key facts
Main target group: Both younger and older people (i.e. intergenerational)
Sector(s): Health, Information and communication, Urban development
Desired outcome for older people:
Contribute
Other issues the Age-friendly practice aims to address:
Ageism
Accessibility
Ageing in place
Healthy behaviours (e.g. physical activity)
Intergenerational activities
Inclusion
Participation
---
Age-friendly practice in detail (click to expand):