Asset Mapping
---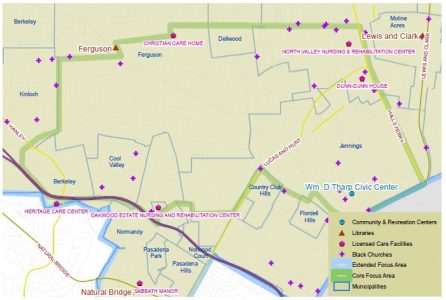 Status: Ongoing
Evaluated
Summary
One piece of an age-friendly assessment is creating an inventory of resources within the community. This can be done with asset mapping, an exercise that reveals the various strengths within a community. The network of people, organizations, programs, and services in your community that contribute to the desired outcome are recorded and mapped. Asset mapping should be participatory and inclusive, enabling persons of diverse backgrounds the experience to identify what they consider to be assets in the community. Because of this, it is a good way to engage staff and community stakeholders by participating in a mapping session, as community members identify the services, places, and experiences that make the community age-friendly. The mapping exercise should be participatory and involve a well-rounded group of stakeholders. Municipal leaders or staff should include residents, business owners, and at-large community members in the stakeholder group. Focus groups by age cohort are a good place to start, but diversity in opinion will enrich the process of identifying assets.
Why Identify Assets?
Identifying existing assets provides community leaders with information to make strategic decisions. Assets can be used as starting points for coordinating or consolidating efforts around a particular issue or service. The intended outcome of a community needs assessment that includes asset mapping is a community profile that identifies unique resources, issues, concerns, and gaps in the current offerings for older adults.
What is a Community Asset?
Social and Recreational Programs, Services, Resources, including:
• Housing Programs
• Police-Citizen Programs
• Volunteerism
• Emergency Preparedness
• Facilities
• Recreational & Community Centers
• Libraries
• Designated Senior Centers
• Health care
Digital Asset Mapping
If you have the capabilities, an asset map can be designed using GIS (Geographic Information Systems) software. You will first want to identify your study area boundary, then layers to provide context such as basemap, streets, and property parcels. Next, you will bring in additional layers that identify your community assets as defined by your stakeholders. Assets may include libraries, recreational and community centers, parks, schools, or churches to name a few. Below is an asset map created for Elder Voices on Ferguson, a project focusing on the perspectives and needs of older adults during times of civil unrest.
Asset Mapping by Hand
If you do not have the capability or software to map, you can easily create an asset map by hand. First, identify the study area, then print an aerial photo or map of the area to provide context. Next, identify your community assets as defined by your stakeholder group.
Key facts
Main target group: Older people in general
Sector(s): Health, Information and communication, Transportation, Urban development
Desired outcome for older people:
Contribute
Other issues the Age-friendly practice aims to address:
Accessibility
Intergenerational activities
Inclusion
Participation
---
Age-friendly practice in detail (click to expand):