Age-friendly Pedestrian Safety Workshops
---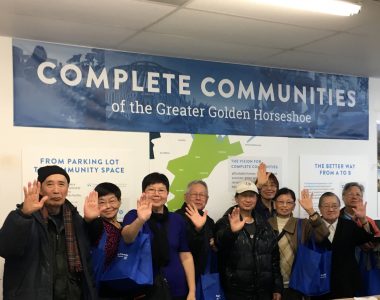 Summary
These age-friendly pedestrian safety workshops aim to increase the safety of older pedestrians in Hamilton by building capacity and educating residents around the use of new pedestrian crossovers and signalized intersections. The workshops involve interactive presentations for older people held in their local communities, which include a video developed by the City of Hamilton on the use of pedestrian crossovers and sidewalks.
The goals of these workshops are raising awareness and developing skills among vulnerable road users (for example, older pedestrians); increasing the number of older people who walk to get around their communities safely; and decreasing pedestrian injury and fatalities of vulnerable road users, such as older pedestrians.
These workshops also provide opportunities for socialization through the interactive presentations that encourage older residents to get together and be a part of local social networks and activities.
Key facts
Main target group: Older people in general
Other target group(s): Vulnerable road-users
Sector(s): Information and communication, Transportation, Urban development
Desired outcome for older people:
Be mobile
Other issues the Age-friendly practice aims to address:
Healthy behaviours (e.g. physical activity)
---
Age-friendly practice in detail (click to expand):