Facilities Audit
---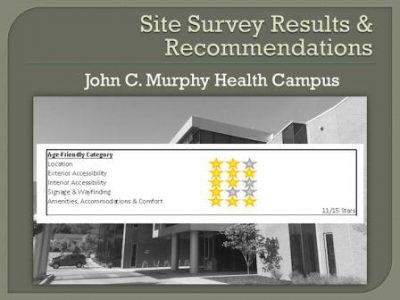 Status: Ongoing
Evaluated
Summary
One very tangible way a community can evaluate its age-friendliness is by conducting a facility audit: an evaluation tool that rates a space on ease of access, use and comfort for residents of all ages. Government facilities are a natural place to start. They function as places for people to gather inside and outside for pleasure and for business. For this reason, it is important for facilities to be designed and operated in a way that all residents of all ages can use and enjoy them. Additionally, municipal buildings and facilities are owned and maintained by a municipality, so improvements can be planned and budgeted, making change more feasible and actionable.
This assessment and rating tool consists of both internationally recognized age-friendly criteria and criteria developed from a customer service and service delivery perspective. Broadly, the audit considers the following: Location; Exterior Accessibility; Interior Accessibility; Signage and Way finding; and Amenities, Accommodations, and Comfort.
The location covers items such as access to public transportation, proximity to other county government facilities, and how difficult it is to locate the facility.
Exterior and interior accessibility rates ease of movement approaching the facility as well as inside the space, including parking, travel distance, walking surface condition, lighting, and the presence of obstructions.
Signage and way finding focuses on visible cues in place to help a person navigate the facility.
Amenities, accommodations, and comfort looks at customer service, restrooms, and miscellaneous amenities that would make a location appealing or more useable.
The auditing tool is designed with questions that are straightforward and easy to answer and can be used by municipal staff, officials, or residents. A series of questions were developed for each category with possible answers of either Yes/No/Not Applicable or a scale of 1-5. If the question is answered YES, then that amenity is considered "age-friendly." If the question is answered NO, then a recommendation should be offered to make the amenity age-friendly. If a question is answered with a 1 or 2, the amenity is considered not age-friendly, whereas a 4 or 5, is considered age-friendly. A question answered with a 3 represents a neutral perspective of the amenity in question. The tool's benefit is that it provides concrete feedback to improve facilities or public spaces indicating both general criteria that can be applied to many different kinds of spaces and still capture site specific strengths and weaknesses
Website: http://www.stlouisco.com/agefriendly
Key facts
Main target group: Older people in general
Other target group(s): Local Governments
Sector(s): Urban development
Desired outcome for older people:
Contribute
Other issues the Age-friendly practice aims to address:
Other Issues: Civic Participation
---
Age-friendly practice in detail (click to expand):