Advancing Age-Friendly Housing Policies
---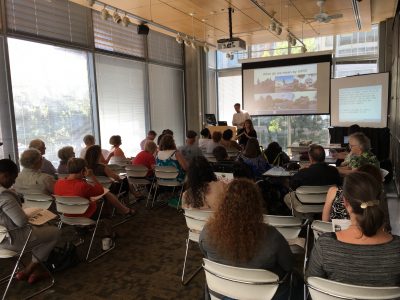 Status: Ongoing
Portland
United States of America
Summary
As an aging city with a very limited stock of age-friendly housing, Portland's Age-Friendly Advisory Council recognized the need for policies to better support the development of age-friendly housing. Our age-friendly practice consists of the development of an equitable housing goal and 10 age-friendly housing-related policies, as articulated in Portland's 2035 Comprehensive Plan, which took effect on May 24, 2018.
Specifically, Goal 5.b. of the Comprehensive Plan states, "Portland ensures equitable access to housing, making a special effort to remove disparities in housing access for people with disabilities, people of color, low‐income households, diverse household types, and older adults." Among the 10 age-friendly housing-related policies in the Comprehensive Plan, two pertain to Urban Form (3.4: All Ages and Abilities; 3.19: Accessibility), two to Design and Development (4.5: Pedestrian-oriented Design; 4.12: Residential Area Continuity and Adaptability), five specifically to Housing (5.7: Adaptable Housing; 5.8: Physically-accessible Housing; 5.9: Accessible Design for All; 5.19: Aging in Place; 5.53: Responding to Social Isolation) and one to Transportation (9.9: Accessible and Age‐friendly Transportation System) (see next section for policy details).
To develop the policies, Portland State University, as the convener of the Age-Friendly Portland Advisory Council and its Housing Committee, of which older people are members, led the provision of written and verbal testimony to the City's Bureau of Planning and Sustainability and the Planning and Sustainability Commission. Support was garnered by highlighting the housing actions in the Action Plan for an Age-Friendly Portland, which was approved by City Council in 2013 (e.g., Housing Action Item 1.2 – Improve Accessible Housing; Action Item 1.4 Advance Opportunities for Aging in Place) as well as actions outlined in the Portland Plan (a 20-year strategic roadmap) organized around an equity framework which emphasized expanding accessible and age-friendly housing and enhancing community livability. The Action Plan for an Age-Friendly Portland was developed following a baseline assessment of the city's age friendliness, conducted as a part of the WHO's Global Age-Friendly Cities project. From 2014 to 2016, Council and Committee members participated in the review of draft policies and offered alternative language that was age and ability friendly. Phrases such as "people of all ages and abilities" and "across the life course" were suggested for inclusion in housing and design-related policies, and verbal testimony by older adults, people with disabilities, academics, and other professionals persuaded the City to add the 10 policies mentioned above.
Policy work is time-consuming and requires extensive outreach efforts in order to encourage civic engagement, including through public testimony concerning policy proposals. Both specialized knowledge and public persuasion are required, Our efforts relied on applying the expertise of members of the Advisory Council and its committees, including academicians, planners, and aging services experts, and written and verbal testimony from older adults, people with disabilities, and others concerning their lived experience.
The equitable housing goal and housing-related policies developed will afford current and future generations the ability to age in place, within a supportive and vibrant community.
Website: https://www.portlandoregon.gov/bps/2035-comp-plan.pdf
Key facts
Main target group: Both younger and older people (i.e. intergenerational)
Other target group(s): People of mobility impairments, families, cyclists, and all others who would benefit from universal design and accessible environments.
Sector(s): Housing, Transportation, Urban development
Other sector(s): Policies included in the 2035 Comprehensive Plan covered the following areas: Urban form, design and development, housing, and transportation.
Desired outcome for older people:
Meet their basic needs
Other issues the Age-friendly practice aims to address:
Accessibility
Ageing in place
Intergenerational activities
Inclusion
Other
Other Issues: Design and development; urban and regional planning; policy.
---
Age-friendly practice in detail (click to expand):