Age-friendly Belfast Intergenerational Guide and Toolkit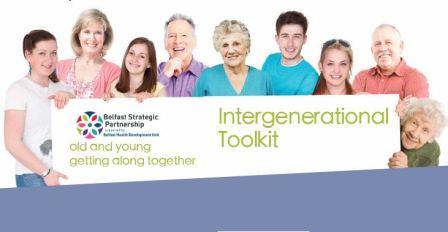 As a consequence of our Age-friendly Belfast Plan 2014-2017 stating that intergenerational work will be championed and a coordinated city-wide approach will be developed; development our  Age-friendly Belfast toolkit and guide that offers organisations information and practical advice to effectively plan, implement and evaluate their own intergenerational projects.
Our resource is aimed at leaders of younger and older people's groups, community development officers, church groups, neighbourhood projects and teachers etc. The Toolkit and Guide is the result of a very positive relationship between Belfast City Council Youth Forum, Greater Belfast Seniors Forum, Belfast Policing and Community Safety Partnership and Linking Generations Northern Ireland.
This resource is designed for leaders of young and older people's groups to help them engage with older and younger people promote participation and a sense of belonging. The guide and toolkit are easy to use and broken into sections which give practical examples of activities, tools and templates for planning and running intergenerational projects.
http://www.makinglifebettertogether.com/wp-content/uploads/2015/02/Intergenerational_guide.pdf
http://www.makinglifebettertogether.com/wp-content/uploads/2015/02/Intergenerational_toolkit_-_web1.pdf