Activity of the Senior Council of the Second Term in Opole City – 2015.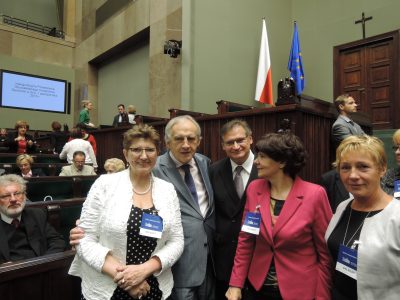 The Senior Council of the Second Term was constituted as a board of 15 members under the Decree OR-I.0050.183.2015 dated 7 April 2015. It is a social body representing local senior communities and serves  for advisory, inspirational, and counselling purposes for The President Office as well as the City Council. Aiming at the integration of our local senior community we have taken barnstorming steps which resulted in establishment of "Senior" –  the Information and Educational Centre.  The idea to set that type of institution appeared within the framework of the First Term Council proceedings. According to the agenda it was supposed to become a model  venue to hold meetings, facilitate sharing experience, inspire and evoke new activities.  Following the idea of learning from the best the Council obtained support of Ms Iwona Niedojadło (coordinator of the senior policy in Opole City) and entered the contest held by "ę" Senior Society called "ZOOM on Senior Counsels. University of Opole." We succeeded in qualifying for the workshops. The main idea of our group of participants was  "Senior Centre of the Opole City." With the help of professionals we managed to establish principles as to the way our centre ought to function and its main goals. In the end we were rewarded with an educational voucher  worth 1700 zł (about $ 460) which we took advantage of later at the forthcoming (2-days) senior activity. It took place in Chrząstowice village 11-12 December 2015 and was called "How to provide all seniors with information and encourage them to involve in our city events. "  Common efforts resulted in publishing the e-brochure entitled "Reaching the seniors of Opole with the information."
In addition to that, our organization acquired membership of the Polish Senior Assembly which represents the Association of Polish Senior Councils. Our activity also involved research trips as to get acquainted with the way other  senior institutions work.  It took us a year to complete the arrangements with the President Office aimed at setting up the Senior Centre which we considered the top priority task as the venue would come in handy for the whole senior community in our city.