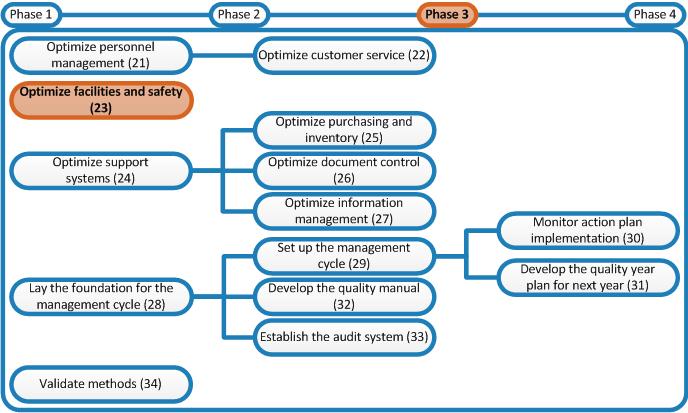 Title
When the laboratory works with pathogens requiring a biosafety level (BSL) III facility: create a negative pressure laboratory
Why
Preventing spread of BSL III pathogens is crucial. When a spill or accident occurs the negative pressure in the biosafety level III laboratory room prevents that these pathogens leave the laboratory room.
What
A negative pressure system is a system that ventilates air out of the laboratory (minimum 6 air changes per hour). This air passes through a HEPA filter that prevents that microorganisms are spread outside the laboratory.
Besides this system, an indicator also needs to be installed next to each entrance door that shows the air pressure difference in the laboratory and outside the laboratory. The air pressure difference should lie between -12.5 Pa or -0.05" w.g. (= inches water gauge) at each barrier door and the laboratory.
A third adaptation that should be made to the laboratory is the installation of an air lock after the entrance door to the BSL III laboratory room. In this room staff can change into/out of their dedicated BSL III lab coats and wash their hands.
Ensure restricted access into the laboratory room so that only authorized persons are able to access the laboratory room. For methods, see the activity on preventing unauthorized access in phase 2.
How & who
Laboratory manager:
Identify funding for financing the negative air pressure system and the constructions that need to be made to the laboratory room.
Plan and construct the air lock in the laboratory.
Purchase and install the negative air pressure system including the pressure meters outside the laboratory room.
Include the air pressure system in the preventive equipment maintenance program developed in phase 2.
Biosafety Officer:
Write an SOP for Working in the BSL III Laboratory. Do this following the protocol for writing Procedure SOPs in the Master SOP and use the template for a Procedure SOP attached to the Master SOP.
Review and authorize the SOP following the procedure in the SOP for Document Control.
Include the SOP in the Read and Understand List and indicate which staff members have to read the SOP.
Present the SOP in a weekly staff meeting and indicate which persons have to read the SOP. Explain that they must sign the Read and Understand List after reading the SOP.
NOTE that the negative pressure system must be connected to a backup electricity source to ensure that it keeps functioning during a power failure.