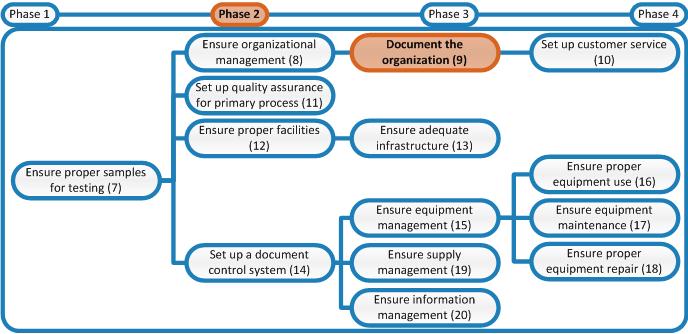 Title
Ensure that the laboratory is legally identifiable and is recognized as national or regional (if applicable: reference-) laboratory by the authorities
Why
The laboratory needs to be recognized as a legal entity so that it can be held responsible for its activities. Moreover, it is crucial that the laboratory is formally recognized by the authorities as a laboratory. Recognition of the laboratory by the authorities will, among others, facilitate support from the authorities to the laboratory and vice versa.
What
Obtain legal recognition/identification of the laboratory. This is a document from the authorities with a verification of the laboratory's existence as a legal entity and its relation to the parent organizations (in case the laboratory is part of a hospital) and/or subdivisions (subsidiaries) if applicable.
Some countries have a licensing system whereby the government will provide a license to a laboratory that it is allowed to function as a laboratory when it complies to a certain set of requirements. In such cases this license serves as recognition of the laboratory by the authorities. If no licensing system is in place the laboratory should request another form of evidence from the authorities in which it is clear that the authorities recognize the laboratory. This can be a letter or some other document.
How & who
Laboratory Manager:
Obtain legal identification from the proper authorities (in many countries this is the Chamber of Commerce).
Obtain evidence from the authorities in which they recognize the laboratory as a laboratory and the status of the laboratory (e.g. "national laboratory" or "reference laboratory" etc.).
Store both documents in the folder Organization (created in phase 1 after developing the Organizational Charts).