Image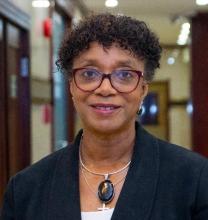 Quote
"We support the Ministry of Health in taking care of people with NCDs and we are doing that within the context of strengthening health systems overall, which is a critical part of the work that we do at country level."
Position
PAHO/WHO Representative for Trinidad and Tobago
Image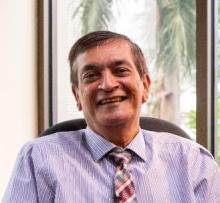 Quote
"I am convinced that the global HEARTS initiative we have established in this country, and globally, is a universal good and has the promise of and potential to make one of the most important public health interventions of our time."
Position
Advisor, Health Promotion, Communications and Public Health, Ministry of Health, Trinidad and Tobago
Quote
"In this programme we have worked with faith-based organizations, community-based organizations, non-government organizations and Regional Health Authorities to assist them in improving how they manage patients with NCDs. Coming out of this initiative, we have been able to provide a platform for these organizations to assist their patients to manage their chronic disease. We have also assisted people in the communities by way of improved educational materials so they can live a better-quality life, managing their chronic illnesses."
Position
Acting Director of the Health Education Division of Trinidad and Tobago
Image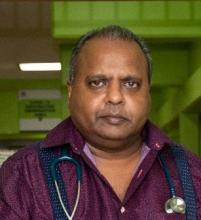 Quote
"Having realized the benefits of the programme I see myself as an advocate or mentor to other people with chronic illnesses who may be struggling to manage their conditions. I would like to help train them and the wider community so that more people can benefit. It is going to expand, and illnesses will become less challenging to the population."
Name
Dr Michael Jaggernauth
Position
Primary health care physician working in the South West Regional Health Authority in Trinidad
60-Second Summary
Fact
Trinidad and Tobago is strengthening the health system response to noncommunicable diseases (NCDs), reorienting approaches to prevention and control, and integrating them into existing primary health care.
Why it matters
In Trinidad and Tobago, NCDs account for 62% of deaths every year. Over half of population has at least 3 risk factors for NCDs but many people find it challenging to choose healthier lifestyles.
Expected Results
People across the country will be more equipped and empowered to prevent and manage chronic conditions. They will have better relationships with their health care providers. These will ultimately help reduce the impact of NCDs on the population's health.
In Practice
PAHO/WHO collaborated with the Ministry of Health to provide training to people with NCDs, who could in turn volunteer and train their communities nationwide. This community-based approach has increased the knowledge, skills and confidence for people to care for themselves and manage their condition effectively.
Behind the blue skies, sparkling seas and rolling golden beaches of Trinidad and Tobago, the population faces a harsh reality. Chronic noncommunicable diseases (NCDs), such as heart disease, stroke, cancer, diabetes and lung disease, are destroying the health of individuals and negatively impacting families and communities.   
Dr Michael Jaggernauth, a primary health care physician working in the South West Regional Health Authority in Trinidad, suffers from diabetes. Despite being a medical professional, he struggled to maintain and manage his own condition. This is very common. While people know, in theory, that adequate exercise and a healthy diet matter, they find it difficult to make the necessary lifestyle changes needed to improve their health. However, Dr Jaggerauth took part in a training course that changed his perspective. This was the chronic disease self-management course, implemented by PAHO/WHO, with the support of the Universal Health Coverage Partnership (UHC Partnership).
"Chronic illnesses make you tired, with poor sleep and physical limitations. This programme has given me many more tools to work with, and I am seeing much improvement in my health. I am sleeping better, I am exercising better, and my weight is better controlled.
Having realized the benefits of the programme I see myself as an advocate or mentor to other people with chronic illnesses who may be struggling to manage their conditions. I would like to help train them and the wider community so that more people can benefit. It is going to expand, and illnesses will become less challenging to the population," said Dr Jaggernauth.
Dr Jaggernauth was one of 25 people with NCDs, from a range of state and non-state organizations across Trinidad and Tobago, who took part in this training to both manage their own NCDs, and also become 'lead trainers' in their communities.
The Ministry of Health with PAHO/WHO have designed the programme to ensure that people in communities are empowered and support each other to make healthy lifestyle choices and manage their own NCD conditions. The approach is also integrated into the health system so that people can get the right kind of support when necessary.
Image/s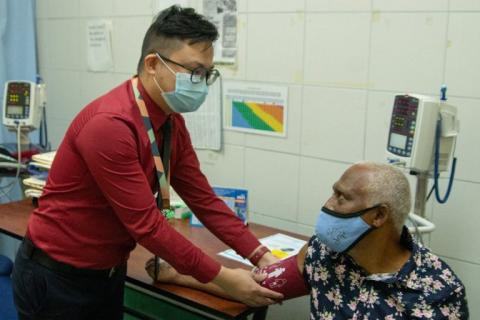 Siparia Health Centre, Trinidad and Tobago. May 2021.
©PAHO/WHO/Denith McNicolls
The growing burden of noncommunicable diseases
The global epidemic of NCDs poses devastating health consequences for individuals, families and communities, and threatens to overwhelm health systems. Trinidad and Tobago has a population of 1.35 million, with 1 million over the age of 18. In the past 50 years, the country's diseases profile has seen a marked shift from communicable diseases to NCDs being more prevalent. The rise of NCDs has been driven by primarily four major risk factors: tobacco use, physical inactivity, the harmful use of alcohol and unhealthy diets. Over half the country's population has 3 or more risk factors, placing them at greater risk of developing a chronic illness. NCDs are the main cause of death and account for over 62% of deaths each year. Three quarters of these deaths occur in people under 70, which are classed as premature deaths. Of course, the COVID-19 pandemic is also complicating the health situation of the population, and Trinidad and Tobago had close to 6,000 active cases (as of July 2021) and approaching 1,000 deaths.
PAHO/WHO, through the UHC Partnership, has been working with Trinidad and Tobago's Ministry of Health to address the issue of NCDs by providing technical support and implementing a range of interventions.
Trinidad and Tobago is among the 115 countries and areas to which the UHC Partnership helps deliver WHO support and technical expertise in advancing universal health coverage (UHC) with a primary health care (PHC) approach. The UHC Partnership is one of WHO's largest initiatives for international cooperation for UHC and PHC. It is funded by the European Union, the Grand Duchy of Luxembourg, Irish Aid, the French Ministry for Europe and Foreign Affairs, the Government of Japan – Ministry of Health, Labour and Welfare, the United Kingdom – Foreign, Commonwealth & Development Office, Belgium, Canada and Germany.
Image/s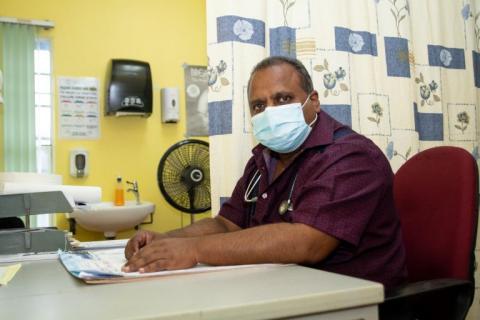 Dr Michael Jaggernauth, primary care physician, was a participant in the chronic disease self-management course implemented by PAHO/WHO, with the support of the UHC Partnership. July 2021. ©PAHO/WHO/Denith McNicolls
Chronic disease self-management
Trinidad and Tobago's Ministry of Health has been working to control NCDs, collaborating across the public and private health sectors, with participation from non-government and civil society organizations. The Ministry has adopted and implemented many resolutions, policies and evidence-based interventions to combat NCDs. The country is taking part in the HEARTS in the Americas initiative, which is a PAHO/WHO technical package to reduce rates of hypertension, a major risk factor for many forms of heart disease. It focuses on proven, affordable and scalable solutions to improve the control of hypertension.
"I am convinced that the global HEARTS initiative we have established in this country, and globally, is a universal good and has the promise of and potential to make one of the most important public health interventions of our time," said Dr Rohit Doon, Advisor, Health Promotion, Communications and Public Health, Ministry of Health, Trinidad and Tobago.
One intervention to promote healthy lifestyles as part of the HEARTS initiative was to provide a 6-week online Chronic Disease Self-Management Programme, based on the principles of self-efficacy. This approach empowers people with NCDs to make healthier lifestyle choices and better manage their own chronic conditions.
It is important for people with life-long chronic conditions to develop the knowledge, skills and confidence to care for themselves and manage their condition effectively. It is critical for people to modify their lifestyles, take medication daily and closely monitor their condition to ensure it is properly controlled.  
The training also encourages people who have received the training to become lead trainers, to go into their communities, share knowledge and resources and empower people to support each other to better manage their own health conditions. As there are no community health workers in Trinidad and Tobago, this is an effective way to embed the approach in community groups and organizations.
The self-management programme is linked to the health system through established chronic disease patient support groups within some health centres. Following the training and involvement of health workers at primary health care facilities, people will be referred from health centres to the programme.
The training came about after several initiatives, including a series of focus group discussions conducted by PAHO/WHO with NCD patients. These were conducted to help better understand the issues and challenges patients face in managing their conditions, and also how they relate to the health sector. Participants reported that they lacked the tools needed to make the healthy choices they knew were right. Many were uncertain how to communicate with their health care provider, for example if they were not taking their medication. From this, PAHO/WHO and the Ministry of Health recognized the importance of building individual competencies to manage their own disease and build trust in the patient-health worker relationship. PAHO/WHO devised a face-to-face training plan which was adapted to a 6-week online version to enable implementation even during the COVID-19 pandemic.
In March 2020, the 25 participants were trained across both islands of Trinidad and Tobago, including from the patient group and a range of state and non-state organizations. Participants learned about the different aspects of self-managing chronic diseases including: fatigue and getting a good night's sleep, the mind-body connection, physical activity and exercise, healthy eating and reading food labels and making informed treatment decisions. The course also covered important areas like problem solving, dealing with difficult emotions, communication skills and making an action plan.
Aside from developing skills to manage their conditions, participants also learned how to roll out the same training in their own communities and contexts, such as with religious groups and health care settings. At least 10 different communities will immediately benefit with a plan for further expansion by 2022.
"In this programme we have worked with faith-based organizations, community-based organizations, non-government organizations and Regional Health Authorities to assist them in improving how they manage patients with NCDs. Coming out of this initiative, we have been able to provide a platform for these organizations to assist their patients to manage their chronic disease. We have also assisted people in the communities by way of improved educational materials so they can live a better-quality life, managing their chronic illnesses," said Ladonna Gulston, Acting Director of the Health Education Division of Trinidad and Tobago.
"My motivation to do this self-management course was to gain good and useful knowledge. With this, I was able to impart this knowledge to my family, my community and hopefully in the near future the nation at large. The course has taught me that little things make a big difference, like reading food labels can impact your diet choices. There are positive ways in which you can learn to manage stress levels in everyday life, both physically and mentally. Simple things like exercising can reduce stress and also improve physical health," said Mawasi Abdullah, a diabetes patient.
PAHO/WHO is coordinating with the Ministry of Health to roll out the training programme to communities across both islands of Trinidad and Tobago. Resource materials are also provided to every community member who receives the training, such as a book on healthy living and a CD on meditation and breathing to relieve stress. PAHO/WHO worked with the Ministry of Health to develop a Standard Operating Procedure to ensure the quality of the training being rolled out to communities, and to establish links and integration with the health service. A monitoring and evaluation framework is also being developed to measure the impact of the approach on health and NCDs and on the relationship between patients and health care providers.
"We support the Ministry of Health in taking care of people with NCDs and we are doing that within the context of strengthening health systems overall, which is a critical part of the work that we do at country level," said Dr Erica Wheeler, PAHO/WHO Representative for Trinidad and Tobago.
Image/s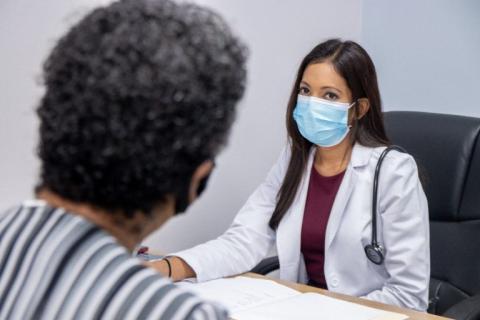 Dr Kavita Jadoo, primary care physician, counselling a patient at the Central Medical Clinic in Arima, Trinidad and Tobago. June 2021.
©PAHO/WHO/Denith McNicolls
Expected impact
Achieving health for all through UHC begins with communities that are empowered to improve and protect their health. The UHC Partnership has provided catalytic funding to implement this training programme for 25 leader trainers who now work in their respective communities throughout Trinidad and Tobago as part of the HEARTS initiative. This continues to provide evidence that self-management of NCDs has the potential to contribute to reducing the burden of NCDs across the country. Over time, the initiative will be scaled up nationwide, with a plan to train more leader trainers over the next 2 years to reach to all communities. The lessons learned from this pilot phase will help continuously improve and strengthen the programme before expanding implementation. With strong links to primary health care services, this integrated approach fosters community empowerment, equipping individuals and families with the tools and capacity they need to support each other in preventing and managing chronic diseases.