NEWS ARTICLE
Supporting countries to get universal health coverage on track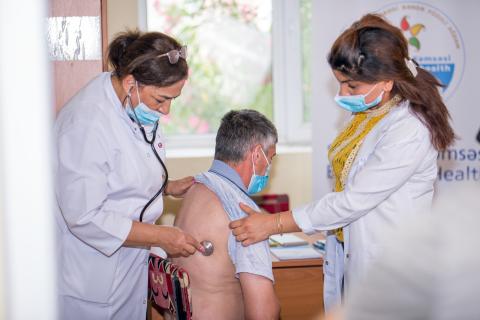 This article was originally published on 6 June 2022 in the UHC2030 website.
The COVID-19 pandemic has underscored the importance of accelerating progress towards universal health coverage (UHC) and health for all, and with the mid-point of the sustainable development goals (SDGs) fast approaching, it is a pivotal time for global health. The UHC movement is calling for global leaders to seize the moment ahead of the United Nations high-level meeting (UN HLM) on UHC in September 2023. To support this wider effort, here are some lessons of how UHC2030's Health Related Initiatives, a group of international health systems networks and partnerships, are helping countries strengthen their health systems with emphasis on primary health care (PHC) and accelerate progress towards UHC.
Broad support to reorient health systems towards PHC:
Focusing on a PHC approach as the best and most cost-effective way to reorient health systems, the UHC Partnership, hosted by the WHO Special Programme on Primary Health Care, serves as a country support instrument covering all health systems technical areas, with over 120 policy advisors working mostly in WHO country offices or seconded to ministries of health. In practice, it covers a wide range of activities related to the development of national plans and strategies, financial protection, governance, health information, evidence and research, medicines, health security and preparedness, noncommunicable diseases, essential health services, health workforce, etc. Working at global, regional and country levels, the UHC Partnership is also instrumental in conveying the efforts developed by other networks and partner agencies, while ensuring that actions at country level are fully aligned with the political advocacy led by UHC2030.
Several related initiatives are also supporting countries to strengthen health systems based on PHC. For example, the Primary Health Care Performance Initiative's (PHCPI) Vital Signs Profiles, have helped more than 25 countries to visualize the strengths and weaknesses of primary health care in their health systems and focus actions and investments where they are needed most. The Alliance for Health Policy and Systems Research (the Alliance) is also assessing and documenting how PHC has been affected by the ongoing COVID-19 pandemic, to provide evidence on best practices for countries to strengthen their health systems.