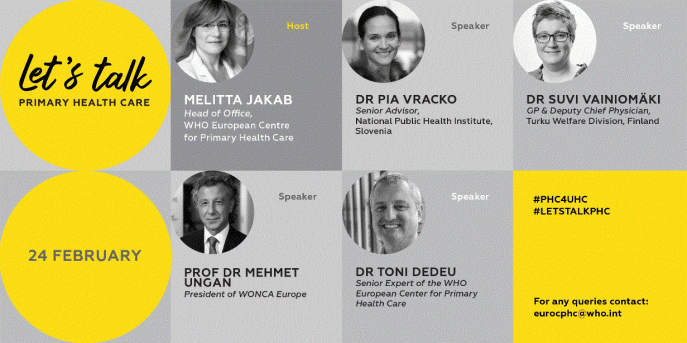 EVENT
WHO Europe webinar series: Let's Talk Primary Health Care
WHO Europe webinar series: Let's Talk Primary Health Care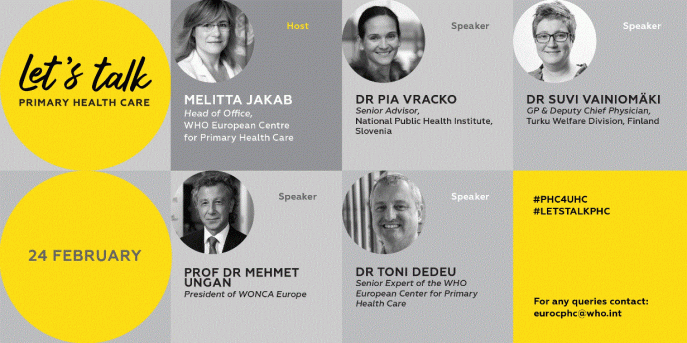 Description
Let's Talk Primary Health Care - Episode 2
Time
24 February 2021, 11:00am CET 
 
Topic
Priority setting of primary health care services during the COVID-19 pandemic / Установление приоритета услуг первичной медико-санитарной помощи во время пандемии
Description
This second edition of the "Let's Talk Primary Health Care" talk show will focus on priority setting of primary health care services during the COVID-19 pandemic. We will be seeking practical experiences from both policy and practice.
After the first part of the talk show, you will be invited to join a conversation to exchange experiences with your colleagues in different countries in Russian (parallel session 1) or in English (parallel session 2).
_________________________________________
Второй выпуск ток-шоу «Let's Talk Primary Health Care» будет посвящен установлению приоритетов первичной медико-санитарной помощи во время пандемии COVID-19. Мы будем фокусироваться на практическом опыте как в политике, так и на практике.
После первой части ток-шоу вам будет предложено присоединиться к беседе, чтобы обменяться опытом с коллегами из разных стран на русском (параллельная сессия 1) или на английском языке (параллельная сессия 2).

More information: Download the event pamphlet