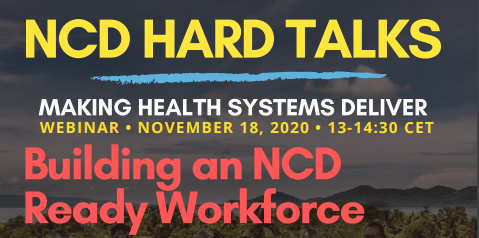 EVENT
NCD Hard Talks: Making health systems deliver (WEBINAR)
NCD Hard Talks: Making health systems deliver (WEBINAR)
18 November 2020 13:00 - 14:30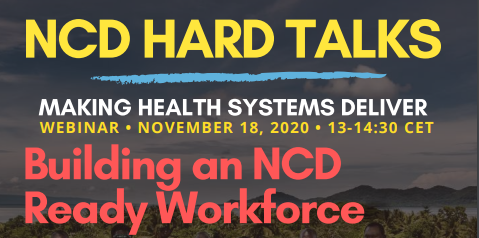 Description
Topic: Building an NCD-Ready Workforce
Schedule: 18 November 2020 • 1300-1430H CET
Reducing the burden of noncommunicable diseases (NCDs) necessitates a transformation in how, and by whom, NCD services are delivered.
This redistribution will see roles traditionally performed in hospitals shift to the community, to where people live and work and can most readily access services. Primary health care (PHC), long recognized for its contribution to health promotion and disease prevention, will be called upon to serve as a platform for NCD screening, early diagnosis, treatment, palliation and rehabilitation.
Such a shift will not be possible unless the PHC workforce is adequately equipped to meet the increased scale and scope of NCD care. This means not only bolstering the supply of PHC workers but optimizing the distribution of critical tasks among different cadres. Executing this transition requires unprecedented cooperation, multi-sectoral collaboration and regulatory action to ensure that quality of care is maintained.
This webinar session will convene health system and workforce experts to examine what it will take to prepare the PHC workforce to take on the challenge of NCDs.