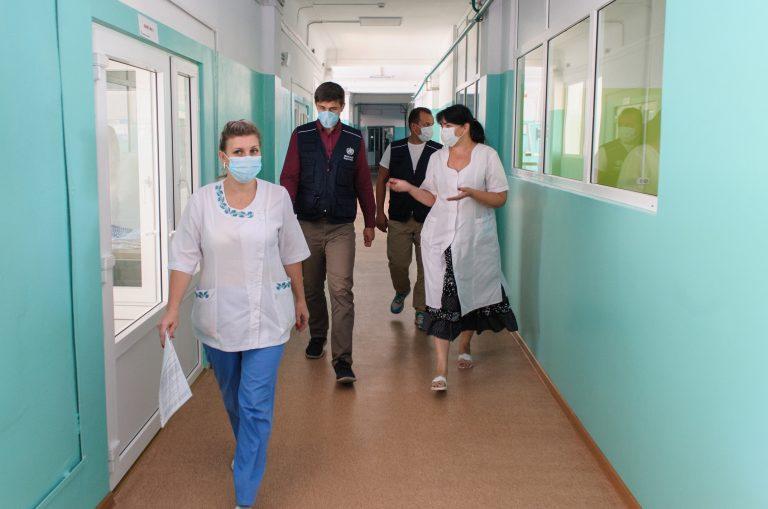 EVENT
Launch of the WHO position paper on building health systems resilience for universal health coverage and health security during the COVID-19 pandemic and beyond
Launch of the WHO position paper on building health systems resilience for universal health coverage and health security during the COVID-19 pandemic and beyond
19 October 2021 12:00 - 14:00
Description
WATCH ON THE WHO WEBSITE    JOIN VIA ZOOM
Interpretation will be available in Arabic, Chinese, English, French, Russian and Spanish
Background
COVID-19 has had wide-ranging health and socioeconomic impacts on all parts of society, leading to setbacks in health gains and efforts to achieve universal health coverage (UHC) and health security. Reacting to events as they occur, without adequately strengthening prevention and preparedness, meant that countries were caught unprepared for a pandemic of this speed and scale. The lack of synergies in health systems strengthening and public health emergency management efforts, as well as underinvestment in the health sector, continue to hamper progress towards both UHC and health security, which are interdependent and complementary goals that need to be achieved to deliver health for all. 
Vulnerable and marginalized populations are hit particularly hard by the pandemic and pre-existing inequalities are further exacerbated. These highlight the urgent need for countries and global health actors to take every opportunity to invest in and rebuild health systems, based on primary health care approaches and essential public health functions, to boost resilience against ongoing and future shocks. Such investments will have substantial returns in terms of socio-economic development and healthier populations.
WHO position paper
WHO has developed a position paper on "Building health systems resilience for UHC and health security during the COVID-19 pandemic and beyond." The paper calls for renewed and heightened national and global commitment to building resilient health systems through integration of universal health coverage and health security efforts by
investing in primary health care and essential public health functions while addressing gaps in health systems foundations 
strengthening preparedness of countries to tackle all forms of public health threats
ensuring whole-of-government and whole-of-society engagement to position health as central to socioeconomic growth and resilience.
This comes at a crucial time to provide leaders and policymakers with recommendations on positioning health within the wider discussions on socioeconomic recovery and transformation.
Agenda
PROGRAMME
19 October 2021   I   12:00-14:00 CET
12:00    Opening and welcome remarks
Dr Zsuzsanna Jakab, Deputy Director General, WHO
Dr Mike Ryan, Executive Director, WHO Health Emergencies Programme
12:15    Keynote speech
Dr Tedros Adhanom Ghebreyesus, Director-General, WHO
12:25    Presentation on the Position Paper
Dr Suraya Dalil, Director of WHO Special Programme on Primary Health Care
Dr Stella Chungong, Director of Health Security Preparedness, WHO's Health Emergencies Programme
12:40    Panel discussion
Moderator: Gerard Schmets, Deputy Director, WHO Special Programme on Primary Health Care
       Panelists:
Dr Faisal Sultan, H.E. Minister of Health, Pakistan
Dr Daniel Salinas Grecco, H.E. Minister of Health, Uruguay
Dr Keheliya Rambukwella, H.E. Minister of Health, Sri Lanka
Dr Victoria Anib Majur, Under Secretary, Ministry of Health, South Sudan
Dr Kerstin Vesna Petrič, Director-General, Directorate for Public Health, Ministry of Health, Slovenia
Dr Mercy Mwangangi, Chief Administrative Secretary, Ministry of Health, Kenya
Dr Ahmad Al-Mandhari, Regional Director, WHO Eastern Mediterranean
Dr Poonam Khetrapal Singh, Regional Director, WHO South-East Asia
Dr Natasha Azzopardi, Acting Regional Director, WHO Europe
Dr Geoffrey Bisoborwa, Director, UHL, Regional Office for Africa
Dr Jarbas Barbosa, Assistant Director, WHO Regional Office for the America/Pan American Health Organization
13:50    Closing
Dr Zsuzsanna Jakab, Deputy Director General, WHO
Dr Mike Ryan, Executive Director, WHO Health Emergencies Programme