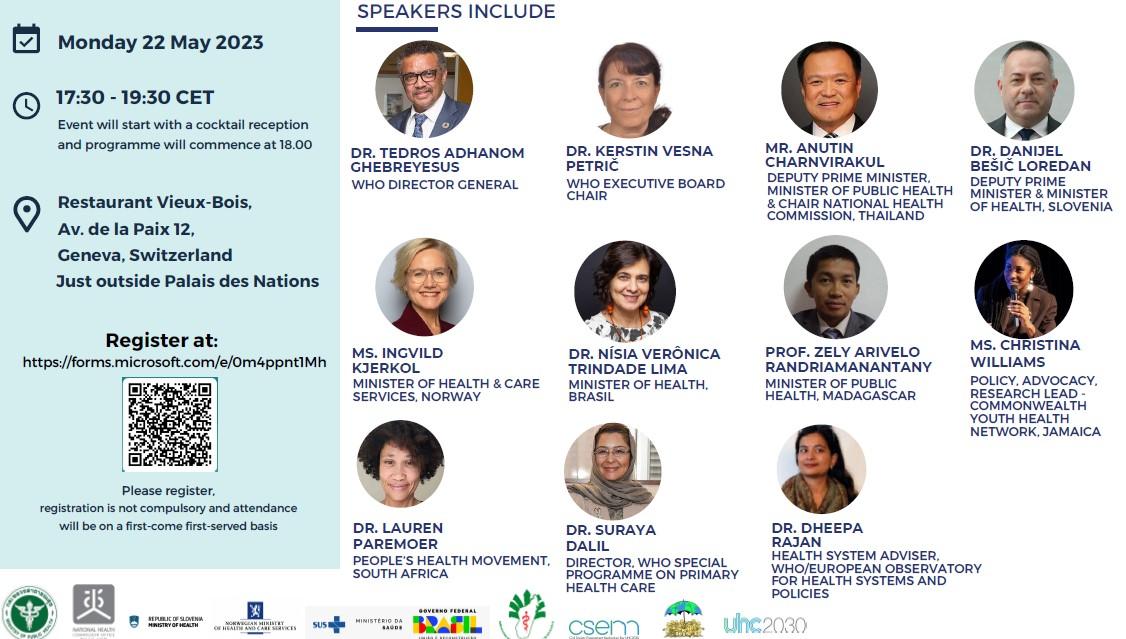 EVENT
Institutionalising social participation for PHC, UHC and Health Security (Informal World Health Assembly side event)
Institutionalising social participation for PHC, UHC and Health Security (Informal World Health Assembly side event)
Location/Venue
Restaurant Vieux Bois, Av. de la Paix 12, 1202 Genève
22 May 2023 17:30 - 19:30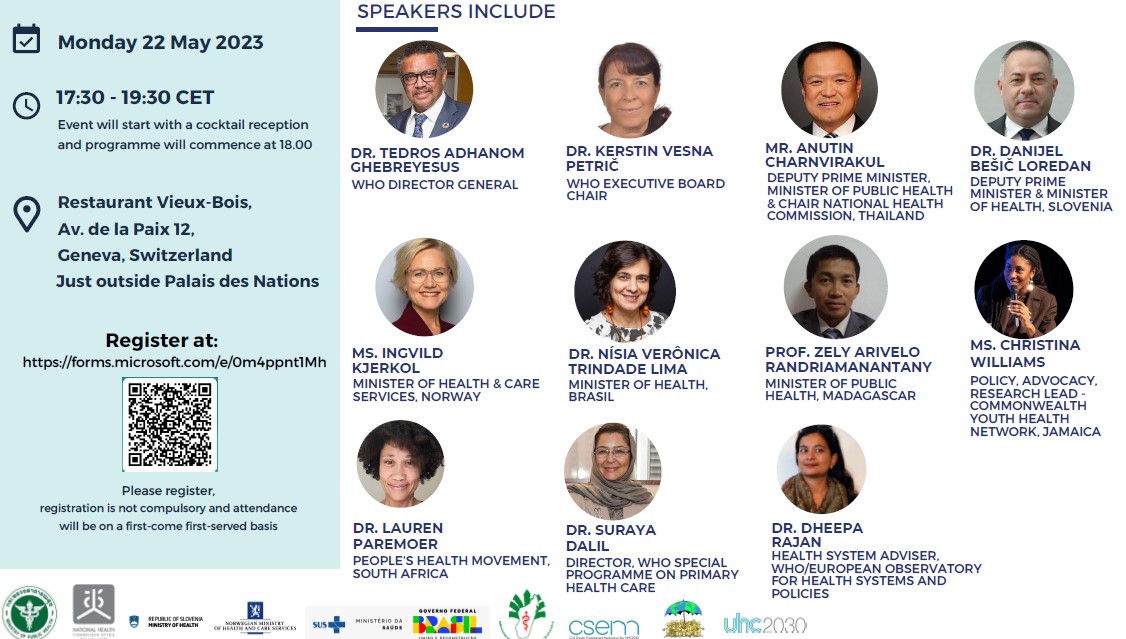 Description
The NHCO, Thailand, Slovenia, Norway, Brazil, Madagascar, UHC2030, the Civil Society Engagement Mechanism (CSEM), and the UHC Partnership invite you to the in person event on institutionalising social participation for PHC, UHC and Health Security.
This informal side event will take place during the 76th World Health Assembly on Monday 22 May 2023 from 17.30 19.30 at L'Entre'Actes, Restaurant Vieux-Bois, Av. de la Paix 12, 1202 Genève, Switzerland.
Speakers include:
Dr Tedros Adhanom Ghebreyesus

, WHO Director General

Mr Anutin Charnvirakul

, Deputy Prime Minister, Minister of Public Health & Chair of National Health Commission, Thailand

Dr Danijel Bešič Loredan

, Deputy Prime Minister & Minister of Health, Slovenia

Ms Ingvild Kjerkol

, Minister of Health & Care Services, Norway

Dr Nísia Verônica Trindade Lima

, Minister of Health, Brazil

Professor Zely Arivelo Randriamanantany

, Minister of Public Health, Madagascar

Ms Christina Williams

, Policy, Advocacy, Research Lead, Commonwealth Youth Health Network, Jamaica

Dr Lauren Paremoer

, People's Health Movement, South Africa

Dr Suraya Dalil

, Director, WHO Special Programme on Primary Health Care
Dr Dheepa Rajan

, Health System Adviser, WHO/European Observatory for Health Systems and Policies
The event will be moderated by Dr Kerstin Vesna Petrič, WHO Executive Board Chair.
Agenda
The event will start with a cocktail reception and the programme will commence at 18.00.
Please register to give the organizers a sense of numbers, but kindly note that registration is not required and seats will be available on a first-come first-served basis on the day.
The event will not be live-streamed so attendance will be in-person only.