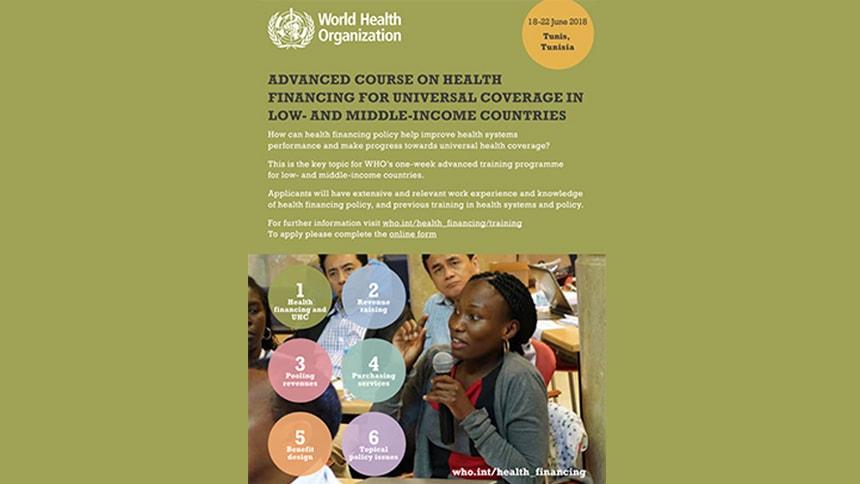 EVENT
5th Advanced Course on Health Financing for Universal Coverage for Low and Middle Income Countries, Tunis, Tunisia, 18-22 June
5th Advanced Course on Health Financing for Universal Coverage for Low and Middle Income Countries, Tunis, Tunisia, 18-22 June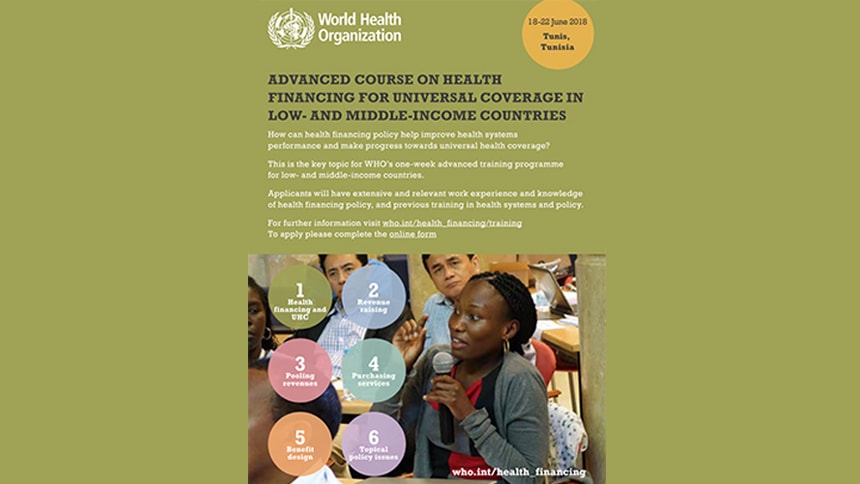 Description
The World Health Organization is pleased to announce its fifth Advanced Course on Health Financing for Universal Coverage for Low and Middle Income Countries, to be held from 18 to 22 June 2018 in Tunis, Tunisia.
The course is structured in line with WHO's approach to thinking and analysing health financing policy and its role in improving health system performance, in particular making progress towards universal health coverage.
The course is designed for policy makers, advisors and analysts in the health and social sectors, senior managers of service provider organizations and health insurance funds, and other relevant actors in government (e.g. Ministries of Finance, Parliamentarians), the private sector, civil society, and development partners. This is an advanced course and participants are expected to have extensive and relevant work experience and knowledge of health financing policy, and previous training in health systems and policy (e.g. participation in a Flagship Course). Completion of the WHO eLearning Course on Health Financing Policy for UHC (http://www.who.int/health_financing/training/e-learning-course-on-health-financing-policy-for-uhc/en/) is strongly encouraged as preparation for the Tunis course.
The deadline for applications is Thursday 1 March 2018 at midnight (Geneva, Switzerland time). The number of places on the course is limited and hence not all applicants can be guaranteed a place.
A Course Selection Committee will select participants based on a number of criteria including the relevance of the applicant's current position and work functions, evidence of previous training on health policy and/or systems strengthening, and English language ability, and a number of additional criteria. Teams from the same country representing different policy perspectives (e.g. health and finance) are strongly encouraged.
To find out more about the course and access the application form, please go to the WHO Health Financing for Universal Coverage website. http://www.who.int/health_financing/training/hfcourse2018/en/