Image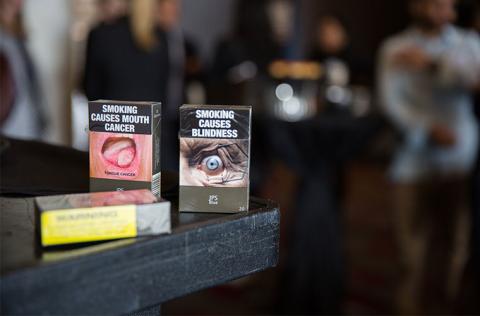 Ten years ago today, Australia took a bold step and became the first country in the world to implement tobacco plain packaging. It saw landmark laws come into effect, which stopped the tobacco industry from using its slick packaging as a mobile billboard.
The evidence showed that it worked. The impact of plain packaging in Australia has been significant. Surveys undertaken by Cancer Council found a sizeable drop in cigarette brand appeal, greater impact of health warnings and likelihood of smokers making quit attempts. In the years between 2012-2015, a government study found a significant decline in smoking prevalence in Australia, about a quarter of which was attributable to plain packaging. An estimated 100,000 fewer Australians smoked just three years after full implementation.
But work supporting these laws, taking on the leading cause of preventable cancer death in Australia, had been ongoing for almost 20 years. The McCabe Centre for Law and Cancer's founding partner, Cancer Council, recognised that banning marketing on tobacco packaging was an opportunity to save lives, and published a summary of evidence in 1993. Support for plain packaging drew on research from Cancer Council Victoria and overseas which indicated that removing all branding on cigarette packages would dramatically change the relationship between smokers and cigarettes. 
The tobacco industry went into overdrive to undermine draft plain packaging legislation, funding aggressive campaigns and presenting unfounded arguments in parliament, rightly fearing that Australia's example would be followed in other countries and reduce their profits. While the laws were passed, and from 2012 all cigarettes and tobacco had to be sold in drab, brown packets, the legal challenges did not stop.
Amidst this battle, in February 2012, Cancer Council jointly established the McCabe Centre for Law and Cancer with the Union for International Cancer Control. The McCabe Centre, the first and only organisation of its type in the world, played, and continues to play, an important role in legal work and capacity-building, supporting tobacco plain packaging in Australia and beyond. 
Meanwhile, the tobacco industry continued to level attacks on the legislation, including bringing a High Court challenge, launching a dispute under a bilateral investment agreement in Hong Kong, and supporting several countries to bring almost a decade-long dispute before the World Trade Organization. Australia overcame every one of those challenges, and in doing so won a significant victory for protecting public health and paved the way for more countries to protect their people from the deadly effects of smoking.
The world has taken notice of these innovations. By 2022, 24 countries, from the United Kingdom to Thailand, Türkiye to Canada, have introduced and adopted plain packaging laws, with Georgia and Mauritius being some of the most recent to issue regulations implementing plain packaging.
Both Cancer Council and the McCabe Centre for Law and Cancer continue to play an important role in supporting this change around the world, sharing Australia's experience as a global leader in tobacco control and strengthening legal knowledge so countries can introduce effective health laws, such as tobacco plain packaging, and defend them when they are challenged. 
In 2013, the McCabe Centre was designated as the first Knowledge Hub to the World Health Organization Framework Convention on Tobacco Control, providing support on legal challenges to the Convention's implementation. Of the 24 countries who have since introduced or adopted plain packaging laws, 18 have had representatives attend past McCabe Centre workshops on plain packaging or received other technical support to progress plain packaging laws and counter legal challenges, and participants from many other countries are progressing further laws.
As we face new challenges, such as the rise in e-cigarette use amongst young people, it is important to remember what has worked in the past to save lives. This includes having solid evidence, effective advocacy to policy-makers, a whole of government process in drafting and defending laws, strong leadership and a coordinated approach combining legal interventions with investment in cessation support and media campaigns.
As Australia seeks to reclaim its position as a world leader on tobacco control, with plans announced yesterday to introduce new legislation to bring down smoking rates and address e-cigarettes, it is timely to reflect on what worked.
This ten year milestone reminds us that other countries can follow suit with confidence about the legal status and impact of plain packaging as part of comprehensive tobacco control laws implementing the WHO Framework Convention on Tobacco Control.