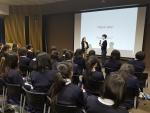 "Who helps to implement Universal Health Coverage?"
This was one of the questions posed by Dr Sarah Barber, Director of the WHO Centre for Health Development in Kobe when she addressed around 80 international studies students at Fukiai Senior High School.
Fukiai High School is one of the World Wide Learning (WWL) base school in Japan which aim to cultivate global leaders from among the youth with an interest in social and international issues.
Dr Barber's lecture focused on Universal Health Coverage (UHC) which is at the forefront of global health in the 21st century. UHC aims to ensure that all people obtain essential health services without suffering financial hardship when paying for them.
Currently, at least half the world's population still do not have full access to essential health services. Nearly 100 million people become very poor – living on $1.90 / Y 200 or less a day – because they have to pay for health care.
Japan achieved universal health insurance coverage in 1961, but continues to work towards meeting the country's changing health needs.
"To answer the question: Every government, organization and person has an important role in promoting the right to good health. Health is a human right, and UHC reflects the values of equity, fairness and social solidarity," she told the students.
After the lecture, the students broke up into small groups to discuss tobacco control. This is a major public health problem globally and in Japan, where second hand smoke kills about 40 people every day. Students explored how to reduce tobacco use and smoking, and who the most important role players were to achieve this.
In closing, Dr Barber urged the youth to be aware of the health impacts of smoking, and to call for 100% smoke free policies in their communities and local governments, to protect themselves, their families and communities from second hand smoke.
WHO Kobe Centre receives funding from Hyogo Prefecture and Kobe City to conduct research about health systems and innovations, particularly around ageing populations. Engaging with the youth is a way to stimulate an interest in research and cultivate new ideas in tomorrow's leaders.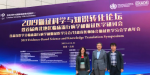 On the 20th of April, Dr Sarah Barber was invited to present at the 2019 Evidence–Based Science and Knowledge Translation Symposium in collaboration with the WHO Collaborating Centre for Guideline Implementation and Knowledge Translation, Lanzhou University, China. She delivered an address on 'Global health and evidence–based policy making'.
"Evidence-based policy making has the potential to help focus on interventions that have the greatest health gains. Global evidence and cost-effectiveness can be useful in considering evidence-based priorities and policy options," she explained.
"Using evidence to inform global health policy is needed, but the policy process is complex. We can use evidence to inform global priorities, select the most cost- effective interventions, and also inform implementation."
Dr Sarah Barber concluded by noting that institutional capacity is needed to evaluate the strength and limitations of the evidence, to identify the context under which policies would be successful, and to consult with stakeholders and the general public.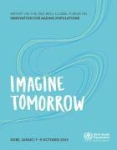 Second WHO Global Forum on Innovations for Ageing Populations Report of the forum, 7-9 October 2015, Kobe, Japan
The report of the Second WHO Global Forum on Innovation for Ageing Populations is now available. The World Health Organization Centre for Health Development (WHO Kobe Centre, WKC) convened the Forum to build upon the platform WKC created in 2013 to share information, debate and drive new thinking about the current and emerging health and social challenges surrounding ageing populations and innovations. The Forum, with its theme "IMAGINE TOMORROW," explored ideas for transforming communities, systems, and technologies for ageing populations worldwide – developments that are timely and key to attaining universal health coverage (UHC) and the new Sustainable Development Goals.
Background
Two years after convening the first one, the World Health Organization (WHO) held its second WHO Global Forum on Innovation for Ageing Populations on 7-9 October 2015 that successfully gathered 212 participants from 24 countries in Kobe, Japan, in exploring visions of transformation in communities, systems, and technologies for ageing populations worldwide. Organized by the WHO Centre for Health Development, also known as the WHO Kobe Centre, the 3-day forum brought together diverse stakeholders - policy-makers and government representatives, members of the academia and the research community, funders, public health professionals, innovators from civil society and the private sector and older people's voices - to highlight and accelerate social as well as technological innovations for older adults globally. With the theme "Imagine Tomorrow", the forum connected innovators with practical knowledge, the latest WHO data and framework and a diverse stakeholder network that shares in common an interest in the physical, mental and social well-being of older people towards innovation for healthy ageing.
Results
The report of the Second WHO Global Forum on Innovation for Ageing Populations entitled "Imagine Tomorrow", based on its theme, showcases - in both static and interactive versions - the ideas, suggestions, experiences and tensions expressed during the forum on the journey from today's realities to realizing tomorrow's envisioned person-centred, integrated care and support systems that would enable older people to age in their communities and continue functioning and engaging in society at large. In the spirit of innovation, the Global Forum provided several platforms for participants to be able to connect, engage in conversations and share solutions in improving the lives of older people in different settings being a global imperative. The report captured overcoming the stereotypes about older people that limit their opportunities; narrated a personal story on ageing in place; detailed "the 5Ps" that would enable ageing in place; and reiterated the need for ensuring that health services and care are accessible to everyone everywhere. In synthesizing documented inputs and discussions, the report upheld the Global Forum's innovative and participative format by mirroring its interactive, conversational approach, thus, the contents were delineated as a series of conversations among older adults.
Moving forward
The Second WHO Global Forum on Innovation for Ageing Populations, convened shortly after the launch of the Sustainable Development Goals 2016-2030 and the release of the first WHO World Report on Ageing and Health (WHO, 2015), has set the stage and momentum for continuing efforts on how health systems, the health sector and other sectors of society can be imagined to be transformed to provide coordinated health and care services, as close as possible to older people in the community. It, therefore, urges all participants and readers to go beyond just having the conversations, towards concrete actions for older people. WHO and the WHO Kobe Centre invite all in moving forward together to share the inputs, lessons, research, insights and questions embodied in the report to advance social and technological innovations for ageing populations in order to "create tomorrow" that has been imagined at the forum.
Related links
Report of the Second WHO Global Forum on Innovation for Ageing Populations, 7-9 October 2015, Kobe, Japan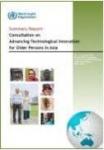 Summary Report of the Consultation on Advancing Technological Innovation for Older Persons in Asia 20-21 February 2013, Kobe, Japan
The global population, particularly in the Asia Pacific region, is rapidly ageing with implications for swiftly rising health care and social costs, and maximizing the potential of this population's contributions to society. In the next 20 to 30 years, the greatest growth in ageing populations will be in low and middle income countries. A WHO priority is to enable ageing populations to remain healthy, active and independent for as long as possible. Achieving the aforementioned goals requires early diagnosis, prevention and treatment of prevalent diseases (e.g., non-communicable diseases), reduction of their risk factors, ensuring rehabilitation services and managing disability, and delay, management, and prevention of functional and cognitive decline. Advancing the availability and affordability of medical and assistive devices, and their integration into community-based health and social service systems, requires innovation that addresses the needs and contexts of older populations, particularly in low income and emerging economy countries.
The Consultation convened experts from government, industry, academia, non-governmental organizations representing the perspective of those using technologies, and from WHO. In addition, with support from the Japanese Ministry of Health, Labour and Welfare, WHO commissioned two systematic reviews/studies of the availability and status of medical and assistive devices (respectively) in eight Asian countries, preliminary findings of which were presented during the Consultation.
The Consultation highlighted the need to address many inter-twined spheres of action to ultimately increase the availability of affordable, acceptable, safe and effective health technologies. Underlying discussions was a recognition of an end-to-end process for innovation that recognized the link between needs articulation, design, development, production, assessment, regulatory oversight, financing, procurement, use, maintenance, and continued post-marketing surveillance.