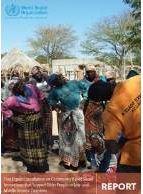 First expert consultation on community-based social innovations that support older people in low- and middle-income countries, 14–15 July 2015, Kobe, Japan
Volume,Pages 33
Publication Date :
January 2016
Language : English
In 2015, WKC launched a new study programme to investigate models and social innovations for community-based programmes which addressed health and social care for older people at a community level, initially in low- and middle-income countries (LMICs).
Understanding these models/initiatives, their key organizational, financial, programmatic, and policy factors will help inform how best communities and countries can plan for sustainable and scaled up approaches, thereby contributing to universal health coverage (UHC) and continuous services for older populations.
In this light, WKC released a call for proposals and supported seven case studies from seven countries. In order to synthesize learning across case studies, WKC organized a consultation with the authors and additional experts in July 2015 in Kobe. This report is a synthesis of both analyses of the case studies and discussions around specific themes identified during the consultation. Further research will be conducted to validate and broaden the evidence base as necessary, in line with WKC's new research strategy into UHC and innovations for ageing issues.
Pages