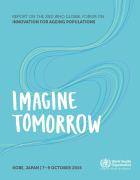 The report of the Second WHO Global Forum on Innovation for Ageing Populations is now available. The World Health Organization Centre for Health Development (WHO Kobe Centre, WKC) convened the Forum to build upon the platform WKC created in 2013 to share information, debate and drive new thinking about the current and emerging health and social challenges surrounding ageing populations and innovations. The Forum, with its theme "IMAGINE TOMORROW," explored ideas for transforming communities, systems, and technologies for ageing populations worldwide – developments that are timely and key to attaining universal health coverage (UHC) and the new Sustainable Development Goals.
Background
Two years after convening the first one, the World Health Organization (WHO) held its second WHO Global Forum on Innovation for Ageing Populations on 7-9 October 2015 that successfully gathered 212 participants from 24 countries in Kobe, Japan, in exploring visions of transformation in communities, systems, and technologies for ageing populations worldwide. Organized by the WHO Centre for Health Development, also known as the WHO Kobe Centre, the 3-day forum brought together diverse stakeholders - policy-makers and government representatives, members of the academia and the research community, funders, public health professionals, innovators from civil society and the private sector and older people's voices - to highlight and accelerate social as well as technological innovations for older adults globally. With the theme "Imagine Tomorrow", the forum connected innovators with practical knowledge, the latest WHO data and framework and a diverse stakeholder network that shares in common an interest in the physical, mental and social well-being of older people towards innovation for healthy ageing.
Results
The report of the Second WHO Global Forum on Innovation for Ageing Populations entitled "Imagine Tomorrow", based on its theme, showcases - in both static and interactive versions - the ideas, suggestions, experiences and tensions expressed during the forum on the journey from today's realities to realizing tomorrow's envisioned person-centred, integrated care and support systems that would enable older people to age in their communities and continue functioning and engaging in society at large. In the spirit of innovation, the Global Forum provided several platforms for participants to be able to connect, engage in conversations and share solutions in improving the lives of older people in different settings being a global imperative. The report captured overcoming the stereotypes about older people that limit their opportunities; narrated a personal story on ageing in place; detailed "the 5Ps" that would enable ageing in place; and reiterated the need for ensuring that health services and care are accessible to everyone everywhere. In synthesizing documented inputs and discussions, the report upheld the Global Forum's innovative and participative format by mirroring its interactive, conversational approach, thus, the contents were delineated as a series of conversations among older adults.
Moving forward
The Second WHO Global Forum on Innovation for Ageing Populations, convened shortly after the launch of the Sustainable Development Goals 2016-2030 and the release of the first WHO World Report on Ageing and Health (WHO, 2015), has set the stage and momentum for continuing efforts on how health systems, the health sector and other sectors of society can be imagined to be transformed to provide coordinated health and care services, as close as possible to older people in the community. It, therefore, urges all participants and readers to go beyond just having the conversations, towards concrete actions for older people. WHO and the WHO Kobe Centre invite all in moving forward together to share the inputs, lessons, research, insights and questions embodied in the report to advance social and technological innovations for ageing populations in order to "create tomorrow" that has been imagined at the forum.
Related links
Report of the Second WHO Global Forum on Innovation for Ageing Populations, 7-9 October 2015, Kobe, Japan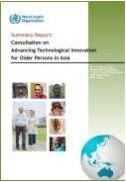 The global population, particularly in the Asia Pacific region, is rapidly ageing with implications for swiftly rising health care and social costs, and maximizing the potential of this population's contributions to society. In the next 20 to 30 years, the greatest growth in ageing populations will be in low and middle income countries. A WHO priority is to enable ageing populations to remain healthy, active and independent for as long as possible. Achieving the aforementioned goals requires early diagnosis, prevention and treatment of prevalent diseases (e.g., non-communicable diseases), reduction of their risk factors, ensuring rehabilitation services and managing disability, and delay, management, and prevention of functional and cognitive decline. Advancing the availability and affordability of medical and assistive devices, and their integration into community-based health and social service systems, requires innovation that addresses the needs and contexts of older populations, particularly in low income and emerging economy countries.
The Consultation convened experts from government, industry, academia, non-governmental organizations representing the perspective of those using technologies, and from WHO. In addition, with support from the Japanese Ministry of Health, Labour and Welfare, WHO commissioned two systematic reviews/studies of the availability and status of medical and assistive devices (respectively) in eight Asian countries, preliminary findings of which were presented during the Consultation.
The Consultation highlighted the need to address many inter-twined spheres of action to ultimately increase the availability of affordable, acceptable, safe and effective health technologies. Underlying discussions was a recognition of an end-to-end process for innovation that recognized the link between needs articulation, design, development, production, assessment, regulatory oversight, financing, procurement, use, maintenance, and continued post-marketing surveillance.
As society continues to age, considerations for action and policies to cope with the needs and capacities of older people, people with disabilities, and others who need support in a disaster are critical. In the case of the Great Hanshin-Awaji Earthquake (1995), statistics showed that there were 6,433 deaths, 43,792 injured and 510,000 homes damaged. Older people were found to have higher mortality rates: among immediate casualties, 53% in Kobe City and 56.6% in Hyogo Prefecture overall were aged 60 and above. Among later earthquake related deaths: 90% were aged 60 and above.
Considered as the "first aged society earthquake" in the world, this case study report reflected on the situation of elderly victims and survivors of the Great Hanshin-Awaji Earthquake through the perspective of the disaster cycle and synthesized measures perceived to be necessary for the future in terms of general health emergency preparedness, response and recovery; and specific concerns for older people during evacuation, temporary sheltering and permanent relocation. Storytelling groups since the earthquake struck were created to meet students to relay experiences about the disaster and provide lessons for the future. Narrations from older people of their experience, resilience and lessons learned are preserved at the Great Hanshin-Awaji Earthquake Memorial - Disaster Reduction and Human Renovation Institution.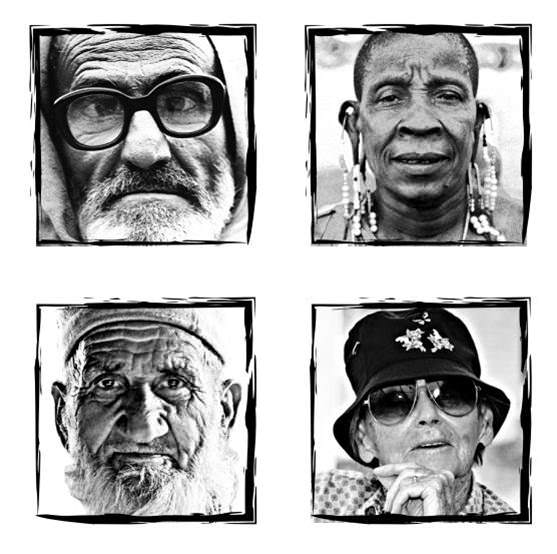 In 2013, the World Health Organization (WHO) established the Global Forum on Innovation for Ageing Populations as an information exchange platform for diverse stakeholders to address the challenge of meeting the needs of older people in low resource settings with frugal innovations. The Global Forum brought together more than 170 expert participants from 21 countries for 3 days of rich discussion and debate, in order to meet the following objectives: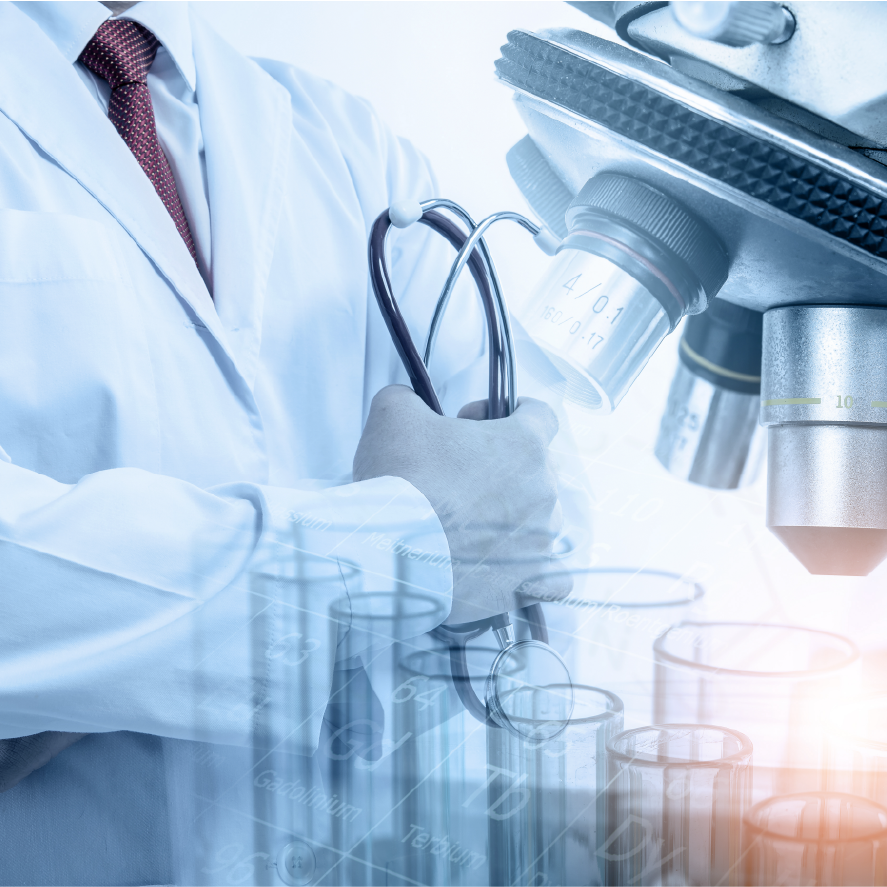 A publication prepared by the WHO Kobe Centre, "Assistive technologies (AT) for ageing populations in six low-income and middle-income countries: a systematic review", was published by the British Medical Journal Innovations (BMJ) on 11 September 2015. WKC conducted a systematic literature review of the current availability of AT, and existing legislation for provision of AT, for older adults in six low- and middle-income countries (LMIC), which are among countries with the highest estimated 65 and over population in the coming decades: Brazil, Cambodia, Egypt, India, Turkey and Zimbabwe.
The review was based on research using multiple databases retrieving an initial total of 538 relevant records, which were screened using specified criteria to yield 17 relevant studies. In summary, AT for ageing populations have received some attention in LMIC, and the limited set of studies reflects the emerging nature of this field. Key findings were that the six LMIC have some degree of available AT designed for older adults with an impairment or disability, but limited AT to prevent such impairment or disability; 2) production of AT in LMIC is currently low, 3) those LMIC with AT initiatives generally for disabled populations (e.g, Brazil, Cambodia, Egypt and India) have started production of low-cost AT, and all of the study countries had ratified the UN Convention on the Rights of Persons with Disabilities. Analysis of review findings indicated the need for a comprehensive, integrated health and social system health system approach in order to increase the current availability of AT for ageing populations in LMIC. These would entail, yet not be limited to, work on: 1) promoting initiatives for low-cost AT; 2) awareness raising and capacity building on AT; 3) bridging the gap between AT policy and practice (including relevant legislation and incentives); and 4) fostering targeted research on AT.

The Global report on urban health: equitable, healthier cities for sustainable development, 2016 presents new data on the health of urban residents from nearly 100 countries, updating the first joint WHO-UN Habitat global report on urban health titled Hidden cities: unmasking and overcoming health inequities in urban settings. The new Global Report deconstructs the complex challenges of health and health inequity in cities everywhere. It presents a special analysis on the impact of persistent urban health inequities on achievement of the Millennium Development Goals. It sets a baseline for the new global health and development agenda in the Sustainable Development Goals and Universal Health Coverage. It also presents evidence that in cities, progress in health depends not only on the strength of health systems, but also on shaping healthier urban environments. This Global Report presents practical, proven solutions for working across sectors to tackle these 21st century health challenges. It presents examples of effective actions by cities and nations around the world and the successes that have been achieved.
For more information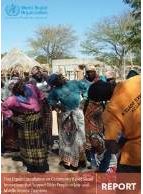 In 2015, WKC launched a new study programme to investigate models and social innovations for community-based programmes which addressed health and social care for older people at a community level, initially in low- and middle-income countries (LMICs).
Understanding these models/initiatives, their key organizational, financial, programmatic, and policy factors will help inform how best communities and countries can plan for sustainable and scaled up approaches, thereby contributing to universal health coverage (UHC) and continuous services for older populations.
In this light, WKC released a call for proposals and supported seven case studies from seven countries. In order to synthesize learning across case studies, WKC organized a consultation with the authors and additional experts in July 2015 in Kobe. This report is a synthesis of both analyses of the case studies and discussions around specific themes identified during the consultation. Further research will be conducted to validate and broaden the evidence base as necessary, in line with WKC's new research strategy into UHC and innovations for ageing issues.