Systematically identifying and evaluating strategies for strengthening community resilience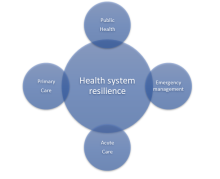 Photo credit:
Implementation:
May 2021 to May 2023
Implementing partners:
Lead research institutions: Baylor University (USA) and Hiroshima University (Japan)
Other participating research institutions: McLennan County Medical Education and Research Foundation (USA), University of Hyogo (Japan), Global Development College (Australia), Ministry of Health and Family Welfare (Bangladesh), UT Southwestern (USA), Trabzon University School of Applied Sciences (Turkey), Karadeniz Technical University (Turkey), University of Health Sciences (Turkey), University of Ljubljana (Slovenia), and James Cook University (Australia)
Principal investigators: Dr Benjamin Ryan, Baylor University, and Dr Mayumi Kako, Hiroshima University
Location of research:
Global
Total Budget: US$ 103,000
Background
The Coronavirus Disease 2019 (COVID-19) pandemic has been particularly challenging due to the potential for asymptomatic and symptomatic spread of the disease, incubation period and the high person-to-person transmissibility. The response has resulted in significant disruptions to social, health and economic sectors. Vulnerable populations have felt the greatest impact. This includes the elderly and those with underlying health conditions, self-employed, low-income, and people with limited access to health care. Economically vulnerable populations cannot endure long-term lockdowns, and most countries lack the ability to maintain a full nationwide relief operation. To address this challenge there is a need to strengthen community resilience during and after the COVID-19 pandemic.
The World Health Organization (WHO) Health Emergency and Disaster Risk Management (Health EDRM) Framework provides guidance on the path forward. This is a frame for sharing country and community experiences to inform all-hazards risk management. It includes exploring barriers and enabling factors for designing and implementing resilient public health systems, risk management, and actions to "build back better". This project will use this frame to provide a better understanding of public health system resilience factors across multiple local government areas, states/provinces, and countries. The Public Health System Resilience Scorecard (Scorecard) version 2 will be applied to systematically identify, evaluate, and recommend priority actions for these locations. The Scorecard was developed by the United Nations Office for Disaster Risk Reduction (UNDRR), with the support of WHO and partners, and is aligned with Health EDRM framework.
Local government areas will be the focus of this project. This will ensure alignment with existing public health, disaster management and government structures. The locations include Australia (Adelaide and Darwin), Bangladesh (Dhaka and Rangpur), Japan (Hiroshima and Hyogo) and the United States (Dallas and Waco). This will provide several factors to compare, for example, city areas, rural locations, density, disaster risks, cultural beliefs, development, behaviours, risk perceptions, and COVID-19 responses. By applying this approach across multiple communities and countries, this project will provide the diversity required to develop generalizable and translatable strategies to "build back better" and strengthen community resilience.
Goals
Identify factors affecting public health system resilience across multiple communities and countries to the COVID-19 pandemic and other emergencies.
Clarify, rank, and prioritize actions for strengthening community resilience.
Explore alignment of the Scorecard with the Health EDRM and the extent to which key vulnerabilities and capacities are addressed in urban and rural areas.
Identify the role of a "whole of society approach", including roles of other sectors, in enhancing public health system resilience.   
Develop priority actions for achieving long-lasting and sustainable strategies to "build back better" and reduce risks of future emergencies.
Methods
Training project team members to deploy the Scorecard.
Application of the Scorecard at candidate sites using workshops to systematically determine priority actions to strengthen resilience.
Site reports developed outlining priorities for strengthening public health system resilience.
Evaluate priority actions identified at all candidate sites, explore challenges across urban/rural areas, and analyse alignment with the Health EDRM at a joint workshop.
Priority actions identified and collated to promote generalizable strategies to "build back better".
Expected outputs from the research
Policy brief promoting strategies for strengthening public health system resilience across multiple communities and countries.
Manuscript(s) describing and analysing the process undertaken, prioritization according to local contexts, and sustainable strategies to "build back better".
App software to facilitate Scorecard discussions.
Conference papers and presentations local, national, and international conferences.
Overview of the project process
Related PDF downloads: