Randomized controlled trial to evaluate a model of community integrated intermediary care (CIIC) services for older adults in Thailand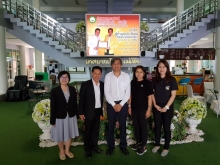 Photo credit:
Implementation:
May 2019 to Sept 2022
Implementing partners:
Lead research institution:  Chiang Mai Rajabhat University (CMRU) and Juntendo University
Other participating research institutions:  Tokyo Ariake University and Chulalongkorn University
Principal investigators:  Dr Myo Nyein Aung, Chiang Mai Rajabhat University, and Juntendo University; and, Dr Saiyud Moolphate, Chiang Mai Rajabhat University
Location of research:
Thailand
Total Budget: US$ 60,000
Background
Globally, healthy life expectancy significantly lags behind life expectancy. The average difference between life expectancy and healthy life expectancy at birth is 12.2% across all WHO regions. Therefore, as people live longer, the probability increases that people will develop and manage chronic conditions that require care. 
In 2016, 16% of the Thai population was 60 years and over, which is projected to increase to 33% by 2040. Thailand is in the process of improving its care system and policies for the continuous care of older people, especially for those suffering from chronic diseases. Care in Thailand for older people is still primarily dependent on the family, which may not be sustainable.
Community-integrated intermediary care (CIIC) is a novel service model designed to enhance and support the traditional family-based informal caregiving. It provides community-based care prevention exercises in order to prevent long-term care needs among older people and consequently also reduce the burden on family caregivers. In addition, the CIIC facility offers a short-term stay service as community-based respite care in a small formal care home. Furthermore, CIIC provides family caregivers training and assistance to improve their caregiving capacity.
Goal
This study aimed to evaluate the effectiveness of the CIIC model in selected communities in Thailand and whether it results in less burden on the family caregiver and better functional ability and quality of life for the older person. 
Methods
A cluster-randomized controlled trial was conducted with 2,788 participants: 1,509 participants in 6 intervention clusters and 1,279 participants in 6 control clusters. The COVID-19 pandemic delayed the intervention and participation was less than expected. Overall loss to follow-up was 3.7%. The primary outcome was the family caregiver burden measured at 6-month follow-up using the Caregiver Burden Inventory (CBI). Secondary outcomes consisted of biopsychosocial indicators including functional ability, measured using the Activities of Daily Living (ADL) scale; depression, measured using the Geriatric Depression Scale (GDS); and quality of life of older people, measured using the EuroQol 5-dimensions 5-levels scale. All analyses were conducted at the cluster level based on intention-to-treat analysis.
Results
After six months of CIIC services, there was significantly lower caregivers' burden, less functional decline and fewer people with depression in the intervention clusters. However, GDS scores increased globally in both arms when comparing the baseline and evaluation, possibly reflecting the stress induced by the pandemic. No improvement could be seen in the participants' quality of life. Follow-up studies over a longer period of time may be needed to detect that full range of effects of CIIC including its impact on quality of life. 
Global implications
Innovation models for caregiving are needed to address the health and social care needs of older adults as populations age which also take into consideration the difficulties that family caregivers face. Despite the stress likely caused by the COVID-19 pandemic, older Thai residents who had CIIC in their communities were less likely to become frail compared to the residents in the control site. This was associated with reduced burden on family caregivers. This study suggests that the CIIC model may promote healthy ageing and help reduce long-term healthcare needs and costs. As many other countries also have traditional family-based, long-term care systems, the findings of this study may inform other countries wishing to adopt similar community-integrated care models for older people and their caregivers.
Local implications
The CIIC model may offer useful lessons for the various initiatives in the Kansai region that also use a community-based integrated care model to provide care and support to older people and their family caregivers. The methods used for evaluating the CIIC model in this study could be adapted for the purpose of evaluating such initiatives in Kansai.
Publications
Aung, M.N., Moolphate, S., Aung, T.N.N. et al. Effectiveness of a community-integrated intermediary care (CIIC) service model to enhance family-based long-term care for Thai older adults in Chiang Mai, Thailand: a cluster-randomized controlled trial TCTR20190412004. Health Res Policy Sys 20 (Suppl 1), 110 (2022). https://doi.org/10.1186/s12961-022-00911-5.
Aung TNN, Moolphate S, Koyanagi Y, Angkurawaranon C, Supakankunti S, Yuasa M, Aung MN. Determinants of Health-Related Quality of Life Among Community-Dwelling Thai Older Adults in Chiang Mai, Northern Thailand. Risk Manag Healthc Policy. 2022;15:1761-1774. https://doi.org/10.2147/RMHP.S370353
Aung TNN, Moolphate S, Koyanagi Y, Angkurawaranon C, Supakankunti S, Yuasa M, Aung MN. Depression and Associated Factors among Community-Dwelling Thai Older Adults in Northern Thailand: The Relationship between History of Fall and Geriatric Depression. Int J Environ Res Public Health 2022; 19(17):10574. https://doi.org/10.3390/ijerph191710574 
Aung TNN, Aung MN, Moolphate S, Koyanagi Y, Ichikawa M, Supakankunti S, Yuasa M. Estimating Service Demand for Intermediary Care at a Community Integrated Intermediary Care Center among Family Caregivers of Older Adults Residing in Chiang Mai, Northern Thailand. Int J Environ Res Public Health 2021; 18(11):6087. https://doi.org/10.3390/ijerph18116087
Aung TNN, Aung MN, Moolphate S, Koyanagi Y, Supakankunti S, Yuasa M. Caregiver Burden and Associated Factors for the Respite Care Needs among the Family Caregivers of Community Dwelling Senior Citizens in Chiang Mai, Northern Thailand. Int J Environ Res Public Health 2021; 18(11):5873. https://doi.org/10.3390/ijerph18115873
Aung TNN, Aung MN, Moolphate S, Koyanagi Y, Mulati N, Supakankunti S, Yuasa M. Thai older people's willingness (intention) to participate in a care prevention, community group exercise program: an assessment before implementing an intervention trial in Chiang Mai, Northern Thailand. Int J Environ Res Public Health 2021;18:4044. https://doi.org/10.3390/ijerph18084044
Aung M, Moolphate S, Yuasa M, Aung T, Koyanagi Y, Supakankunti S, Ahmad I, Kayano R, Ong P. Community-Integrated Intermediary Care (CIIC) service model to enhance family-based, long-term care for older people: protocol for a cluster randomized controlled trial in Thailand. JMIR Res Protoc 2021;10(3):e20196. URL: https://www.researchprotocols.org/2021/3/e20196. DOI: 10.2196/20196
Related PDF downloads: